Me and my friend Chuck went thru 3 trails in under 2 hrs Saturday morning. CHuck drives a really cool buggy on 39.5" BFG red label krawlers. His videos show where we were trying to make an obsticle. I was all over that obsticle and tried a bunch of different lines (the craziest are the two attempts shown in the video). I just couldn't make the obsticle this time but Chuck could after just 2 or 3 attempts.
Good news is that my new 35 spline rear shafts survived, i was really giving it more throttle than I shouldve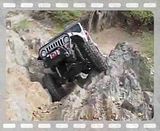 chuck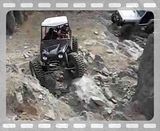 I took a few crappy photos using my phone camera.
Here are some of the buggies specs:
-------------
light weight around 1800 to 2000 lbs.
The engine is aluminum, Suzuki 2.0 L. dual overhead cam with aluminum five speed stick transmission backed up to a 6.5 to 1 ratio aluminum transfer case with a rear drive shaft quick disconnect. This system will allow us to disconnect the rear drive shaft, lock the rear wheels and use the front wheels to make tight turns.
The clutch is Exedy, metal on one side and fiber on the other side.
Front and rear axles are Dana 44's, with 5.89 gears and ARB's front and rear, we placed both front and rear differentials on the passenger side of the frame, with a wheel base of 108''.
The wheels are 17" aluminum KMC bead locks with BFG Red Label 39.5" Krawlers tires, custom 35 spline axles. Front and rear disk brakes.
The shocks are Fox 2.5" diameter X 16" travel.
The steering system is a "Howe", full hydraulic power steering single ended 2.25" dia. 8" travel ram. The winch is the Warn 9.0 Rc Rock Crawler with nylon rope.
The hood is a narrow fiberglass Jeep Liberty with grill that will be painted black and the chassis will be black power coated. The seats are Beard with a five point harness.
--------------