I have started procuring parts for a tire carrier build that I hope works out as well as it does in my head
.
I have a couple items in place, or soon to be in place that will make this build possible. Those factors will make their place as we go.
- PSC 'trail gate' tailgate (no more factory hinges)
- 4" flush mount LED tail lights
- Genright full steel corner armor
My design is actually pretty simple. I like the Genright swing-out body mounted carrier, but rather than mounting the tire between the tailgate and carrier, I would prefer to have the tire outboard of the carrier.
To me, that keeps everything as close to the body as possible. Sure there is protection for the tire with tubes on the outside, but there is always a trade-off.
Refer to my CAD drawing below for the basic idea. (not my Jeep)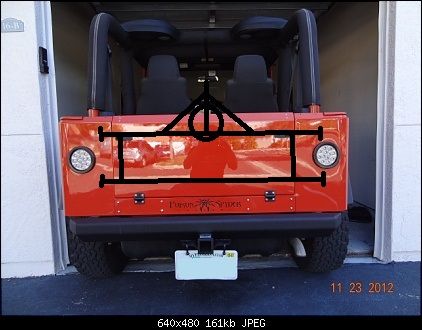 I put in an order with Barnes4wd for a few of the parts.
I will be using these 1/4" thick link brackets on the passenger side in the stock tailgate hinge location. The plan is to drill out through the body and bolt through to backing plates. If I weld in some 3/16" plate to fill in the voids on the corner armor, I would likely also weld these brackets to the corner armor for double insult.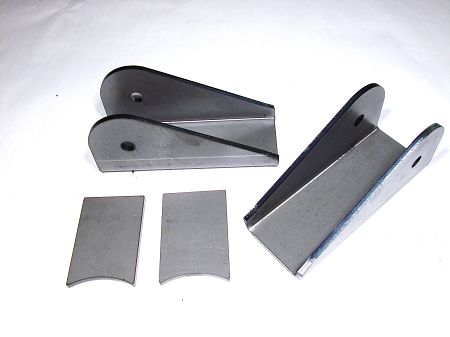 The driver's side will see these brackets, also 1/4" thick link brackets. They are a little more low profile. They will also be backed with plate on the backside of the tub.
The tire carrier structure will use these DOM/poly bushings at the hinge points.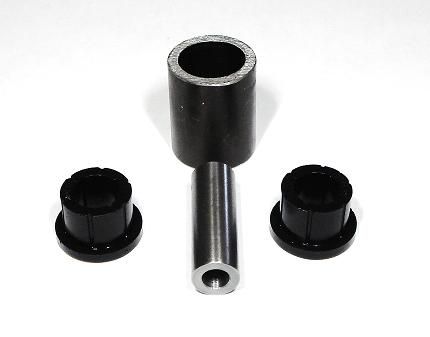 Again, the design is fairly basic. Two lengths of DOM running from one side to the other....bolted on the passenger side, hitch pin on the driver's side. There will be a couple vertical pieces to tie it together.
The tire carrier will be built off of the upper tube with a few supports and gussets.
I will be taking some final measurements this evening and ordering the DOM tomorrow. Going to use 1.75"od, .120 wall DOM.
I will do the basic fit-up of everything and have the guys in the shop do the pro welding.