I did this about 8 months ago, but never shared it. Still holding up strong!
I ended up getting a 5 ft Firestik Cut-to-tune antenna from a friend for $10 and needed a cheap way to mount it. Couldn't really mount it on the tire carrier because the antenna was so damn long. The only other option that I really liked was the CoolTech Ultramount, but $90 for an antenna mount? That cost more than my CB radio and antenna combined!
I still liked the concept of that mount tho, so I decided to copy it and save some cash. I started with a cheapo Firestik 3-way mount. Amazon sells them for $20, but I picked it up for about $15 at a local offroad shop.
Firestik 3-way Antenna Mount
Take the license plate off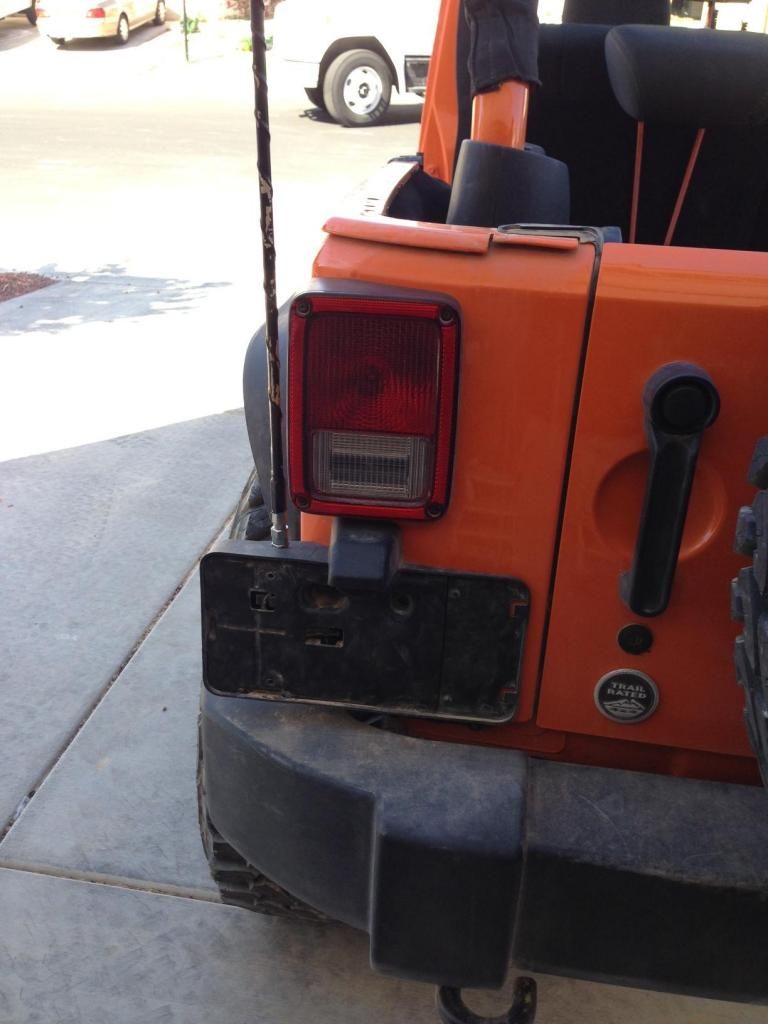 Pop out the front plastic inside the license plate bracket
From here, you can see pretty much what I did. Drilled a hole in the top of the license plate holder big enough for the antenna after I'd lined up the antenna mount. Then drilled 4 holes in the forward side of the mount big enough for the bolts that I used. I don't remember the sizes, but you can eyeball it and be just fine. From there, I cut a length of some 14 ga. wire I had laying around and put some terminal lugs on the ends. Put one lug on a bolt for the antenna mount, and ran the wire down behind the mount underneath the body of the jeep. I drilled a hold big enough for a bolt in the frame, ground some paint off, and threw that bolt and terminal lug on. Now the mount is grounded and you're pretty much good to go. If I skipped any smaller steps, they should be self explanatory. There's lots of eyeballing and guesswork in this, so you can definitely make it your own. Any quesions, feel free to ask!