I was crawling threads on jeepforum (I'm coffeeman99 over there) and a post got me to thinking about something that has probably crossed the mind of most newer model Universal Jeep owners: I long for a new Jeep with styling of that of the original Jeeps (or something along those lines).
Anyway I got to thinking about styling points and that led to the desire to break out photoshop... For your consideration, Wrangler TJ Willys MB Transformation: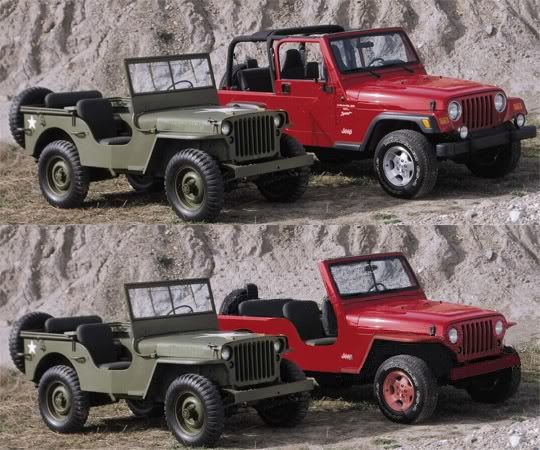 Modifications in the picture include removal of doors and adding sheet metal to give the look of the original opening, flat fenders up front and no fenders in the rear, cut grille to conform more closely to the shape of the original, turn signals in the grill (though I don't think those are turn signals in the MB), shortened bumper, removed the fog lights, removed the roll bar, replaced the seats with (MB seats here) low-back seats, removed the windshield wipers (wouldn't be driving in rain without a top anyway, and they must be removed to fold down the windshield on a TJ- less work to do so is just better), Made the windshield split like that of the MB, made color of wheels to match paint.
I wouldn't do any serious off-roading without a roll bar myself, and I will not be doing this to my Jeep. However, if I should find a TJ with a rough body such that it has a low price I might just create such a rig. I think it would make for a great cruising vehicle............................. Thoughts?