Hello all, my name is Greg and I just brought home a 94 Wrangler! Back in 1993 when I was in the Marines and stationed at Camp Pendleton Ca I bought a brand new 1993 Wrangler. I loved it and drove it all over the place. When I finished my tour in the Marines and was released from active duty, I drove the Wrangler home here to PA. I drove the snot out of it here in PA. But eventually it got older and I got married and kids came along and the Jeep was sold and replaced by a Ford Explorer which was much more family friendly.
I drove the Explorer from 2000 to 2012 when it finally lost the battle with it's transmission after logging just over 145,000 miles. Since I only drive 8 miles to work every day and I have a beautiful restored Musclecar in my garage I was able to convince my wife that it's better for me to just buy an inexpensive Jeep Wrangler rather than to take on a $400 per month car payment. In all reality I had been planning on buying a Jeep once the Explorer died anyway!
So yesterday I brough home my 94 Wrangler. It's all original and was previously owned by a mechanic who took really good care of it. It's the 2.5 4cyl, 5 speed trans, with ice cold A/C. It has a soft top with the glass upper doors, and plans are to find a hardtop and doors before winter. I love it and plan on driving the snot out of it just like my old Wrangler.
The frame and floors are super solid, the body has a few small spots that need attention but my next door neighbor is a body guy and we've already discussed fixing those spots and then shooting it with paint just for the Hell of it.
I'm REALLY happy to be back in a Wrangler after all these years and looking forward to learning all the good stuff from you guys!
Check it out...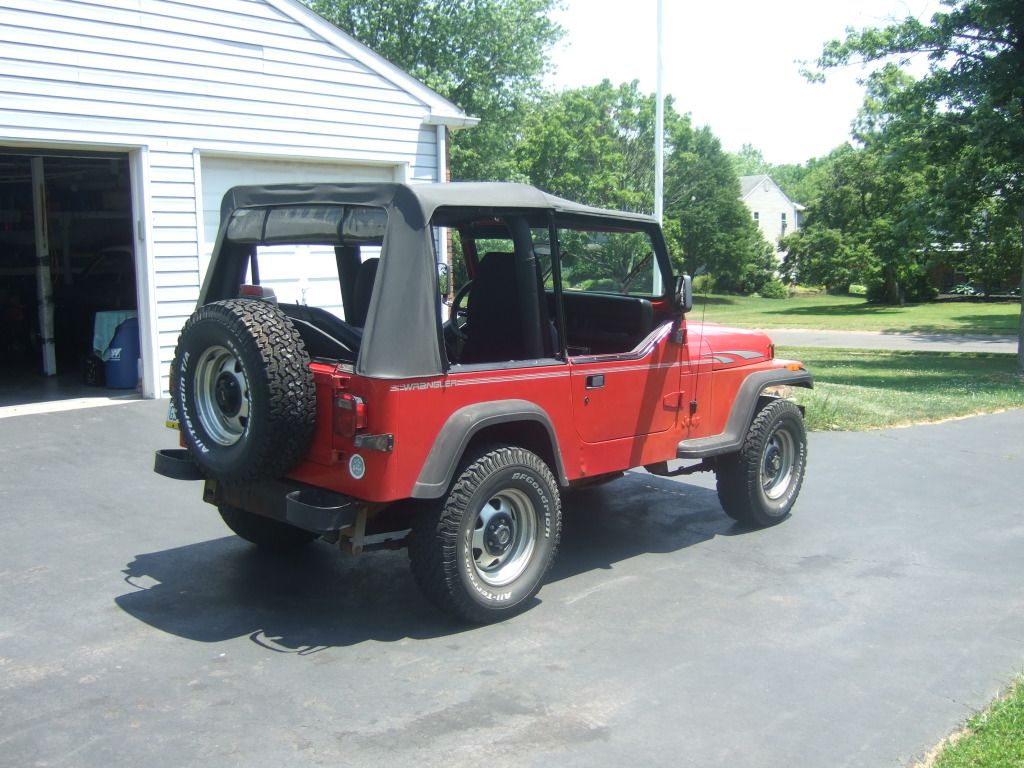 This is my Firebird...it's a 400 4 speed car with a 10 bolt rear with 3:55's. It has new quarters, fenders, floors, and paint.