Hello everyone. Just bought a 1995 Wrangler for a little summer toy. It is a 4 cylinder 5 speed, without A/C. It is mechanically sound with the exception of 5th gear (which is completely gone). She does however need some cosmetic TLC. I plan on keeping the Wrangler somewhat stock with the exception of a wheel/tire combo and maybe a lift kit of some sort. I will be searching the "parts for sale" section quite a bit. My goal is to get this jeep looking pretty by the time it is 70 out. Here is a short list of what she needs to be spring ready:
-Replace the 2 front fenders
-Replace the Hood
-Needs Carpet
-Needs rear Seat
-Needs better rims and 31"-32" tires
-Small body lift kit (2"-3" at most)
-Upgrade The Radio, Speakers, and Add a Sound Bar
I am hoping to find the hood and fenders used off of a red jeep to keep the cost down and remain within my budget. Since I have a garage, the doors and hard top are not necessary. I plan on selling those to offset the cost of some of the other parts I need to buy. This should be a fun project and it should keep me busy for at least a couple of months. I am well acquainted with the search function and plan on using it extensively. I am sure however, at some point I will be hitting you guys up for some advice or questions concerning this project. Here are a few "before" pics......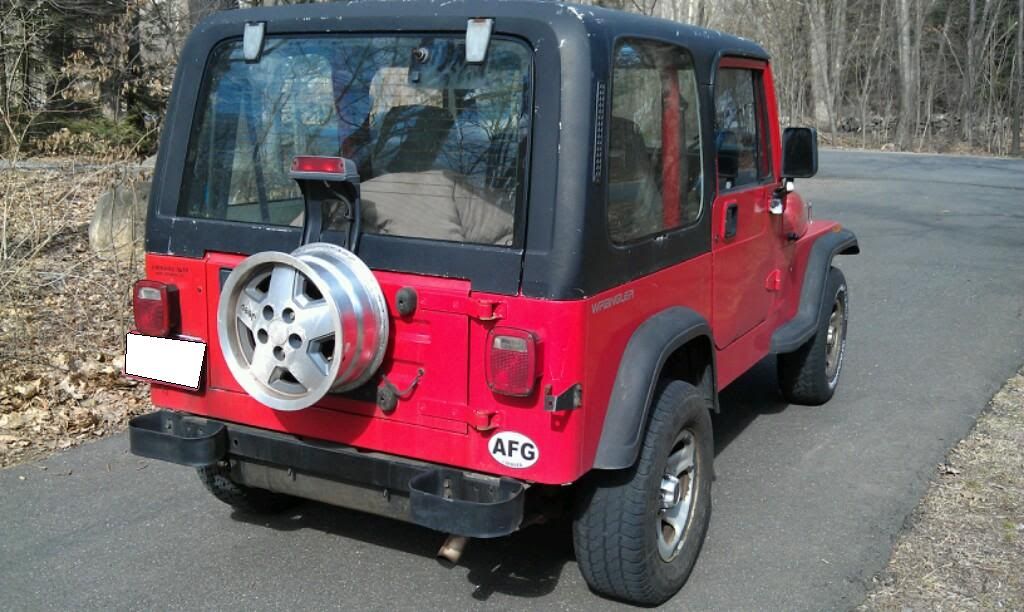 My ideal wrangler is a TJ 6 cylinder 5/6 Speed. This one came along and was so cheap I couldn't pass it up. I will probably fix it up and sell it in the spring. Who knows I may get too attached to let it go, we'll see...