Howdy folks. Was recently persuaded to join the Jeep community. Family used to have a CJ7 that performed around the ranch like a tank.
August 11th, I was struck by a drunk driver going 75-100mph while I was standing still in my lifted 2011 Tundra Crewmax. Truck was my baby, had a lot invested, but did it's job and I'm still breathing.
A coworker of mine has a 2010 JKU and after seeing him mudding with us, reignited my jeep love. Picked up a 2012 JKU Sport in Austin last week, took it to the beach this Labor day weekend(Padre National Shores). Our families had a blast and now my wife is just as much in love with it as I am. My kids dubbed it "Daddy's Beach Car," lol.
My old Baby:
http://photobucket.com/MissYouTazeMe
The new project: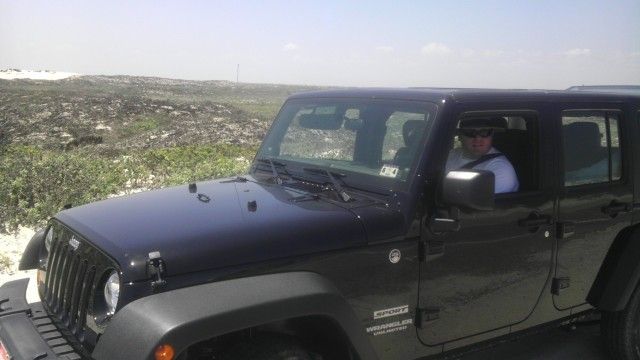 Lol, mine looks so awkward next to my coworker's Jeep. Dealership in Austin was ordering the 2012 models with the sound system, leather, connectivity group, top, 3.73, and auto while going for the stock steelies as a lot of folks had been requesting that combo since they were putting on aftermarket tires/wheels anyways. Saved over 2k out the door by buying from Austin instead of San Antonio, that doesn't even count the savings of the leather seats, connectivity, and sound system as well.
Anywho. Thanks for this forum. I'm doing my best to use the search button and read before I ask.
Anyone else in the San Antonio area like to hang or shooting, hit me up. I'm a gun nut with a drag racing problem. Have a 50 cal yet to shoot and a project Rx7 for the racetrack.