Okay I'll bite. After reading all the helpful posts you guys so generously share, I just have to let everyone in on my first jeep project.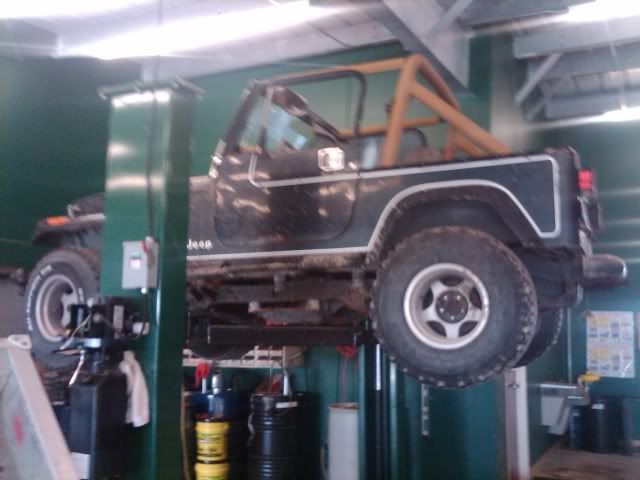 This is the only picture of taken of "Patton" so far, but I promise to take more throughout the rest of his transformation.
As I paid for him:
49K miles on the body
3" body lift
4.2L staight 6
15x12.5x33 non matching tires
Completed projects to date:
New exhaust from manifold to tip
New brake booster
New master cylinder
New battery
New ignition switch
Entire brake lines
New horn
Needs:
Windshield
Driver and pasenger seats and brackets (man quadratec is proud of them, I want neoprene)
Seatbelts
Front drive shaft (no idea why its missing)
Headlight switch
Wants:
Bedliner sprayed in tub
Flat Olive Drab paint job
Flat black paint front and rear bumpers
Lots of lights
Warn black alloy wheels
A top I suppose
Rod holders for surf fishing
I am fortunate enough to be a golf course superintendent and have access to an awesome shop. Its pictured up on our equipment lift.
I vow to take many more pictures along the way and ask many questions.
PT