Apex Rear Bumper
Features:
Increased departure angle and protection where you need it:
The Apex rear is designed to allow maximum ground clearance without the need to cut into the JK's frame. It wraps around the corner just enough to protect this vulnerable area from impact when exiting an obstacle, but not so far that it hinders tire clearance during articulation. Bumper mounting requires only minor drilling and is then handled by 8 grade 8 bolts, 4 that are retained from the factory hardware and an additional 4 that are provided with the bumper.
Recessed Reverse Lighting:
The Apex rear is designed to incorporate a recessed Rigid LED flush mount light. This platform allows the customer to dial in the amount of light they need for the rear of their vehicle. We run a diffused SR-M (2 LED) on our shop rig and it provides plenty of light for reversing even at night with tinted windows. Here is a link to the different lights that rigid offeres; they have everything from 2 LED diffused light all the way up to a 3 LED driving.
Flush Mount
Recovery shackle mounts and use of factory trailer hitch:
3/4" thick shackle mounts pass through the face of the bumper and are welded not only on the outside, but also directly to the frame mounts of the bumper, ensuring that the shackle mounts are the strongest possible recovery point you can use. The bumper is designed with a cutout so that the factory hitch can be retained for those that wish to use this area to implement an additional d-ring mount or for towing. The step in the bumper allows for up to a 35" tire on a factory tire carrier.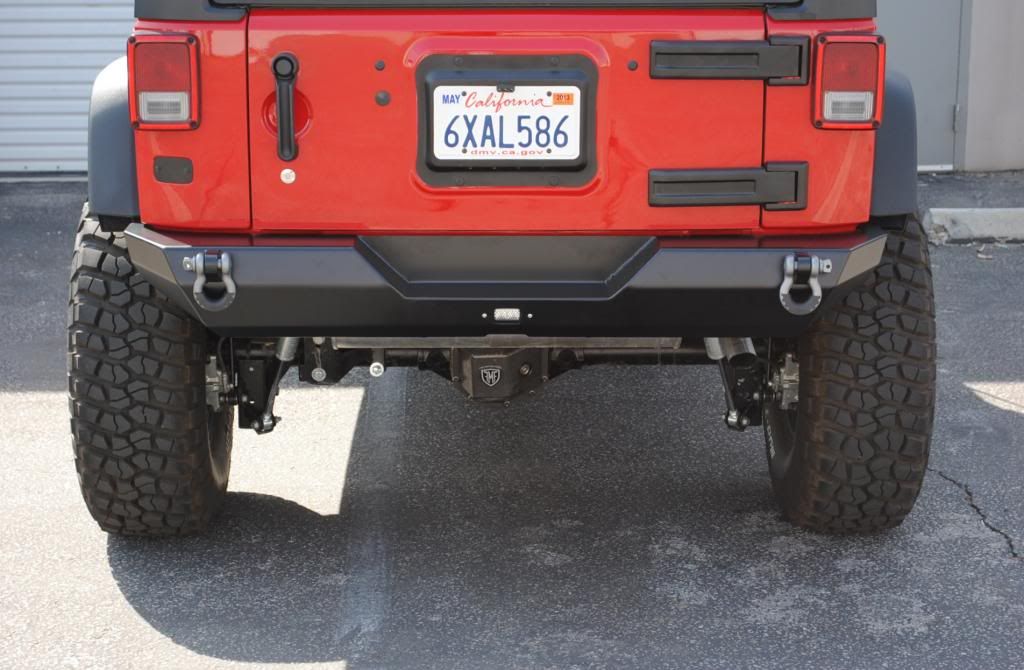 Pricing:
$535 bare, with recovery shackle mounts
Add $110 for rigid light (2 LED SR-M models)
Add $200 for powder coating
To Order Call: 909-792-9777 or shoot us a pm with a complete shipping address for shipping quote.