BORA Adapters - Off-Road Adapters, by Motorsport Tech.
Since 1996, Motorsport Tech's Adapters and Spacers have been designed, built, tested, and proven in the toughest conditions on Earth - They have outfitted vehicles in the US Military for combat duty, desert racing pre-runners, Arctic rescue vehicles, major auto companies including Ford, Chrysler, and Goodyear, and have built parts for thousands of hardcore off-road enthusiasts around the world - including their own vehicles they drive daily.
With their experience and acquired knowledge over the last 15 years, along with a recent expansion of their in-house production facility, they thought it was time to introduce a new 4x4 specific line: BORA. BORA stands for Bulletproof Off Road Adapters. And that's just what they are. BORA adapters will be built to the same exacting standards of all Motorsport Tech parts (Made in the USA with Alcoa aluminum on state of the art American made Haas CNC machines) but now at a lower price!
Wheel and Hub Centric Design for exact fit.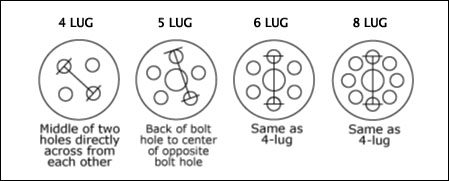 BOLT PATTERN CONVERSION CHART
108.0mm = 4.25"
114.3mm = 4.50"
120.7mm = 4.75"
127.0mm = 5.00"
139.7mm = 5.50"
BORA JEEP CJ5 • CJ7
5x5.5 • 1/2" x 20 Studs • Hub Bore 108
.750" - Set of 4 - $190 - Set of 2 - $95
1.00" - Set of 4 - $190 - Set of 2 - $95
1.25" - Set of 4 - $200 - Set of 2 - $100
1.50" - Set of 4 - $210 - Set of 2 - $105
1.75" - Set of 4 - $230 - Set of 2 - $115
2.00" - Set of 4 - $280 - Set of 2 - $140
BORA JEEP TJ • LJ • YJ • Cherokee • Liberty
5x4.5 • 1/2" x 20 Studs • Hub Bore 71.5
.750" - Set of 4 - $190 - Set of 2 - $95
1.00" - Set of 4 - $190 - Set of 2 - $95
1.25" - Set of 4 - $200 - Set of 2 - $100
1.50" - Set of 4 - $210 - Set of 2 - $105
1.75" - Set of 4 - $230 - Set of 2 - $115
2.00" - Set of 4 - $280 - Set of 2 - $140
BORA JEEP JK • Grand Cherokee
5x5 • 1/2" x 20 Studs • Hub Bore 71.5
.750" - Set of 4 - $190 - Set of 2 - $95
1.00" - Set of 4 - $190 - Set of 2 - $95
1.25" - Set of 4 - $200 - Set of 2 - $100
1.50" - Set of 4 - $210 - Set of 2 - $105
1.75" - Set of 4 - $230 - Set of 2 - $115
2.00" - Set of 4 - $280 - Set of 2 - $140
Post or PM with your spacer needs