The Savvy GTS is here!
- Full replacement skid
- Up to 1.75" increased ground clearance
- More trackbar and exhaust clearance
- Replacement Stainless Steel tank straps
- All new mounting hardware and body clips
- 3/16" 6061 T-6
- Dual height mounts
- Installs with or without a body lift
- Corrosion resistant materials
- Weighs 32 pounds complete
- Form fit to the tank
- Made in the USA!
- Guaranteed you break it on the trail and we'll send you another one (just send us a picture of where you did it and the old skid back)
Our skid is designed for the Jeep Wrangler 1997-2006 in both the Unlimited and TJ models.
To ensure a painless installation, we have supplied all needed fasteners including new crossmember hardware, tie wraps, and push in panel fasteners to re-install the plastic wheel well liners.
This innovative skid is constructed of 3/16" thick 6061 T6 aircraft grade aluminum alloy to provide high strength with light weight. Weighing in at 32 pounds, you only suffer a 4 pound weight penalty when compared to the 03 and up factory skid.
The dual height mounting flanges are made from high quality HRPO steel that has been laser cut and clear zinc plated for corrosion resistance. Whether installed at the lower height with no body lift or the raised position when used with a min. 1" body lift, the skid provides the maximum clearance possible. Our unique stainless steel tank straps keep the tank secured in the skid to protect your delicate emissions and fuel lines from contact with the bottom of the tub.
We combined rolled front and back corners with a formed dimple with gradual transitions for the fuel sump to reduce hang-ups on the trails. As with all Savvy Off Road products these are designed for extreme off road use only.
You break it we'll replace it warranty!
Click Here to Purchase the Savvy Gas Tank Skid
Stock skid height and 3/4" higher than a stock skid: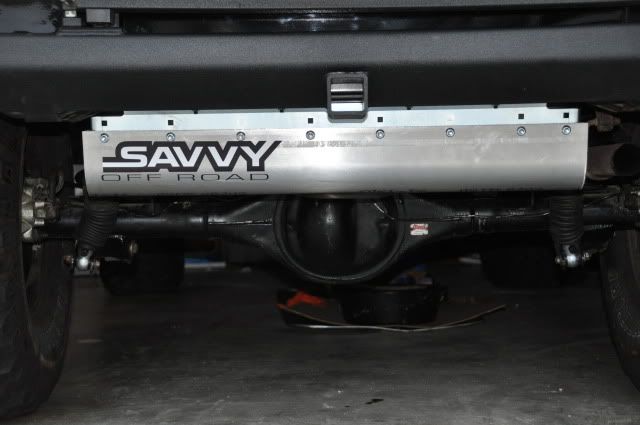 Body lift installed giving an additonal 1" of clearance
These have been polished!