Hey! - Miami, FL (Kendall area)
*Pics at the bottom*
Here's my 1995 Jeep Wrangler for sale, it's all about the square headlights!
I'm asking $4,000 OBO, you know the price right off the bat.
This is a 4 cylinder Wrangler that is in perfect running condition. The car is my daily driver and I occasionaly take it mudding (Lots of fun). My plan was to purchase something else to drive around and V8 this thing and make it a sick trail rig but I have to move away for about half a year for Florida Highway Patrol academy in Tallahassee and I need something I can drive comfortably for hours on the highway from here to there and back. I'm no liar, I will be completely honest about this vehicle in all aspects as I want it to go to the hands of someone who will love it and enjoy it as much as I did.
Pros:
It's already lifted 3" and has 33" tires on it, the A/C is freezing cold, it has 2 Bestop soft tops, one full and one bikini top (Bikini top is black). Has a nice Sony interface that works great and looks awesome. Quarter inch thick steel from bumper will move things out of your way. 4Low will get you out of the soupiest mud holes ever, even the 4 cylinder has ridiculous torque. Full Herculined Interior means it doesn't matter if it's rain or shine, top off doesn't make a difference, won't rust won't stink! Water pours right out of the inside and it makes the interior much easier to clean. Has the 2˝" hole cut out on the passenger side fender, ready for a Snorkel (Had a snorkel on it but no more). Otherwise all stock and in good condition. A few dings and dents, not bad nor noticeable, it's the way a Wrangler should look anyway... Rugged.
Cons:
No spare tire, took the mounting plate off and the rear door was 3 different colors... so I camoflauged it! I think it looks cool as hell, you probably won't. It has no rear seats, it didn't come with rear seats when I bought it. The tires are starting to wear, they have life left in 'em, but long trips eats 'em away. The speakers aren't wired up to the radio, there's no carpet in the car so it shouldn't be an issue to lift the center console (Which is custom, I bought it that way, works great) and wire them up. The car's really dirty and I'm far too lazy to clean it! Haha. Ok, ok, I'll clean it before I sell it...
Included:
Very heavy duty front brush guard (Not shown in pictures). The holes are drilled into the bumper and I can mount it back on if the buyer wants it.
2 Fog lights, very bright...
2 windshield mounting brackets to mount the fog lights to (Easily accessible from driver/passenger seat so you can move them as you go).
Fogs can also be mounted to the brush guard.
The title to the car! It's a clean title and it's in my hand.
The additional Bestop Bikini top (Black)
Doors are hard, top half windows are soft and can be lowered or removed entirely. Tops come off and go on with no problem (The Wrangler's tops guys, keep your mind out of the gutter). The doors are also very easy to remove and makes the car a ton of fun to drive to the beach or through the mud! Even on the street, it's a great feeling.
Rear Diamond Plate (Black) body armor. Looks SICK!
Alright well there's the info guys. Again I'm asking $4,000 OBO. Please no low ballers, I'm not in that much of a rush as I can borrow my mother's car but I'd like to get rid of it and get on with my life/career. These cars grab hold of their value and do not let go! Get it while you can.
Contact information:
hehetkk@gmail.com
is my e-mail and 305-215-1157 is my number. Call, text, or e-mail me any time, I reply quickly to text messages / emails.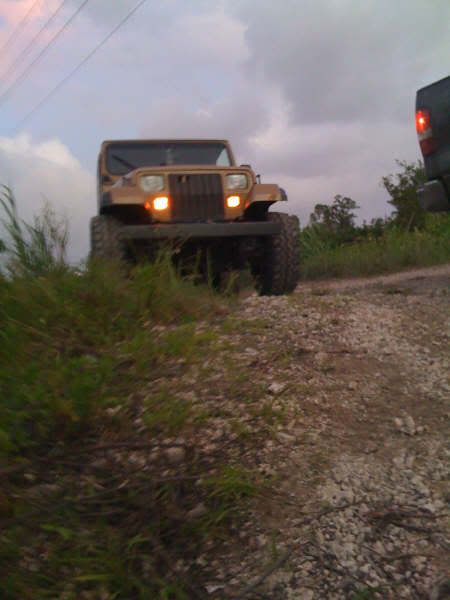 WILL NOT SHIP! I need no more troubles or stress, trying to sell it locally, so if you live near me and you want to come check it out go right ahead and call/text/email and we'll set something up.