Up for sale is my families 2005 LJ jeep. This is the extended wheelbase version so has a much larger trunk and more leg room inside the car. It is in great condition with no major dents or scratches as far as I know. We lent out the car to a family friend this weekend so i'm putting up the pics I have of it on my computer. I'll take more detailed pics once the car is back home.
It is an automatic and has cruise control. Other than that I have no idea what non-standard options it has. It is tan with a tan interior, and has a Garvin roof rack already installed on it. The roof rack is in good condition with some exposed metal in one area (pics will come). The car has almost brand new 15" Ultra wheels and 235/75/15 Duratrac tires on it. Literally these were mounted in August... It also has EK motorsports door straps which were just installed this week as the old ones broke. Only other thing I did in my ownership is applied bedliner paint to all of the fender flares and the door steps since they were fading.
In August the car had an oil change and checkup and the mechanic said it "needs" new front brakes. We haven't noticed any squeaking yet though so i'd imagine they still have some life on them.
Anyways asking price is $17,500 as is. That will come with the new wheels, tires, and also the stock jeep wheels and tires if you would like. Also willing to sell it for $16,500 with only the stock wheels and tires. Feel free to PM me with any questions you might have and i'll get back to you ASAP. Thanks
Footnotes:
-41k Miles
-Long wheelbase TJ
-Like new Ultra wheels and duratrac 235/75/15 tires
-Bedliner paint on all the fender flares and the steps
-EK motorsports door straps
-Garvin roof rack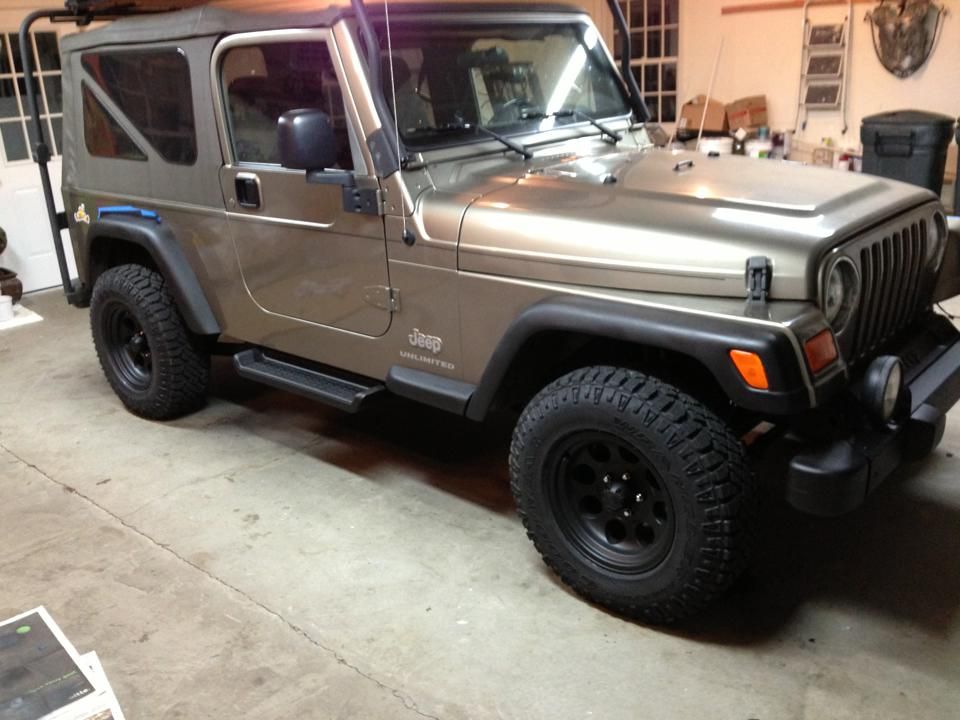 Old pic before wheels and bedliner paint on flares and steps: