Ahoy Shipmates!
Before you get too excited about these, I AM SELLING THESE LOCALLY, and WILL NOT SHIP!!! For you Texas Buyers, I am located in New Braunfels, between San Antonio and San Marcos, just off of I-35.
I traded my Wrangler last week, and I have the Factory Half Doors & Uppers For Sale, for a 2009 JK Wrangler 2-Door. As far as I know, these will fit a 2007, 2008, 2009, and possibly a 2010 & 2011 Model JK Wrangler. They will also fit a JK Unlimited as well, however, please remember that I only have the Front Two Doors!
They are Detonator Yellow, but can be re-painted by any Body Shop, to match the color of your Jeep, once you provide them with the Paint Code.
The Doors are complete and fully assembled,
READY TO HANG!
These Doors have the Power Lock Option, that will work on your JK, if you have Power Door Locks for your Full Doors.
I used these doors for about 6 months last year, before I switched back over to the Full Doors. Not a thing wrong with them at all! Not a scratch, dent, or bubble on either Door. They are in Like-New Condition. I
DID NOT
install them at all this year, due to our 3-Digit Temps we had this Summer. We didn't have a Spring here, and our weather jumped from Winter to Summer, therefore, I just kept my Full Doors on. My Half Doors have sat in the Garage on carpeted mats, since Nov of 2010.
These were purchased from JeepsAreUs online last June, since the Jeep Dealers didn't have them yet. The Doors and Uppers are Factory Mopar Doors, however, I bought the Spare Mirrors seen in the pics below, off of EBAY. They are
NOT
Mopar, but look and operate identical to the Mopar Factory Mirrors that came with my Full Doors
(I just didn't want to switch Mirrors, every time I swapped Doors.)
.
Here are a few pics of the Doors, showing the Exterior and Interior. If you'd like more pics, let me know, and I'll post 'em on here for you.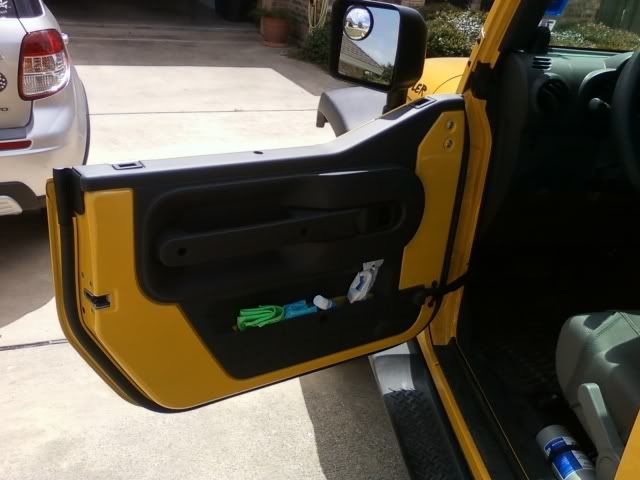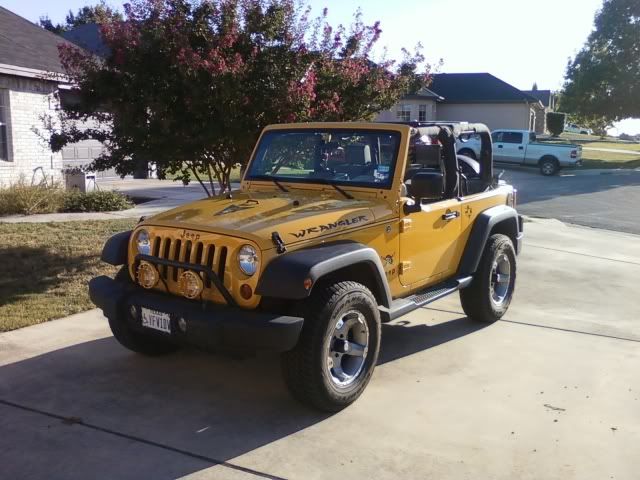 Now... as far as my asking price... I paid $2,200 for them last year, excluding Painting. I had that done locally by the Jeep Dealer. I called my Jeep Dealer the other day, and asked how much they were asking for a set of Half Doors. They started quoting me $962 for the Passenger Door Shell
(No Inner Door Panel)
, and $955 for the Driver Side Door Shell
(No Inner Door Panel)
. After he quoted me those prices, I just told him to stop there. It wasn't any use continuing.
Also, I checked the JeepsAreUs website, where I bought mine through last year, and the Doors have gone up a bit. For an exact set of Doors like I have For Sale, it would cost you $2,462.95, which would include their Shipping ($150).
Finally, I checked the Jeep/Mopar website for Jeep Accessories, and priced their Door Kits, at roughly $1,700. Keep in mind, that their Doors are
NOT
Assembled or Painted. Once you add Assembly, Power Lock Ready Wiring Harness, and Mirrors, you're right back up to the $2,400 Price Range.
With the above figures in mind, I am asking
$1,500 FIRM
, for these Doors! This Sale includes:
- 2 Factory Mopar Front Doors
(Driver & Passenger Doors)
that are Power Lock Ready... just plug in the Wiring Harness.
- 2 Factory Mopar Upper Doors
(Windows)
, for Driver & Passenger Doors.
- Factory Mopar Window Bag, that holds both Upper Doors, when you have them in storage.
- 2 Non-Factory EBAY JK Style Mirrors.
I
WILL NOT
accept Money Orders, Checks of any kind, or Credit Cards. This is a
CASH ONLY
transaction.
As I stated above, I will sell these
LOCALLY ONLY... I WILL NOT SHIP!!!
If you're a serious Buyer, please PM me, and I'll be more than happy to answer any and all questions that you may have.
I currently have these up For Sale locally as well, and Reserve The Right to Cancel this Sale at any time, if I have a Local Buyer.
Thanks for reading!
Cheers!
BB