Want to trade my 92 Cherokee for a 97-06 (would prefer 97-01ish) TJ Wrangler. I am NOT interested in YJ Wranglers.
Mine:
clear title
1992 Jeep Cherokee Sport
4.0 6 cyl auto trans 235k miles (new top end about 5000 miles ago)
NP231 transfer case
New (less than 3000 miles) 33x12.5x15 Goodyear Wrangler MT/Rs on Cragar v5 wheels with 3.75" backspacing
Custom front and rear winch/recovery bumpers with shackles and hitch receiver (rear only)
HP Dana 30/29 spline Chrysler 8.25 (also comes with a 4.10 LSD Ford 8.8) (8.8 needs mounts welded on (one side is done), comes with truss, SOLID diff cover, new pads and rotors as well as ubolts and a quart of POR 15)
3.5" lift (2" Grand Cherokee Up Country springs with 1.5" spacers in the front | 2" Teraflex Shackles and Rough Country Shackle Relocators in the rear)
Removable doors
New cylinder head* and head gaskets installed about 5000 miles ago, in the last year I've replaced the shocks (Rancho front, BDS/Napa rear (have an extra BDS shock to replace the Napa one, just haven't yet) entire cooling system (radiator, water pump, tstat, hoses, fan clutch, efan, ect), battery, rear ujoints, rear pinion yoke, LED dash and shifter lights, complete tune up, and hatch struts.
*Spartan head. It didn't overheat, I changed the tstat and barely torqued the lower bolt (probably less than 10 ft/lbs) and a chunk snapped off along with all the bolt threading. Decided to just replace the head rather than trying to braize the chunk back on and retap the thread.
the bad:
Could be repainted
hood latch needs to be replaced
passenger front door doesn't open from inside (I can fix this if it's a big deal)
I was waiting to regear the front axle to match the 8.8s 4.10 gears so it's still got stock 3.55 gearing which is less than ideal for highway use.
A/C has a full R12 charge but there's a vacuum leak somewhere in the system. Really easy fix I just haven't bothered with it.
No carpet or headliner. Has some nice Kia all weather mats in the front and rear though, makes it really easy to hose out mud. Planned on bedlining the interior just hadn't gotten to it yet.
Very slow trans fluid leak from the tranny pan, but I'm changing the gasket out on Saturday anyway. Needs a quart to top off once a month or so.
Gauges cluster needs to be replaced. Odometer, speedometer, tachometer and fuel gauge work just fine, but the oil pressure gauge doesn't work and the temp gauge works but it was off. Looks like it's about to overheat but runs about 70* cooler than the actual reading, confirmed via IR temp gun.
I've had everything from CJs to Wagoneers and I've wanted a Wrangler for a few years and figured I might get a good mutual trade. I've had numerous Cherokees and this things a blast but I don't have kids and rarely have passengers anymore so I don't need the extra room. Very mechanically sound, I drive it daily to and from work. Oil changes done frequently (~3 months/3500 miles with new filter and Valvoline 5w30), most fluids were changed in the last year, maintenance kept up on. Continue basic maintenance and it'll run forever.
Your Wrangler:
clear title (no salvage titles, liens, ect)
4.0 6 cyl with auto trans
grey interior
mechanically sound, I don't mind fixing minor issues, but no blown motors/trans, ect
no major rust or rot. A little is fine but I don't want a rust bucket.
That's about all I'm picky about. I don't care about the exterior color, scratches, dents, ect. I have other vehicles and this will be mostly for off road use. I would prefer white, black, light blue, or earthy colors for paint but it's really not a big deal.
Pics are the most current ones I have. If you want some pics with the doors on let me know and I'll happily go take some. Doors off is 100% street legal as long as you keep a drivers side mirror (old postal Jeep mirror in the picture comes with it).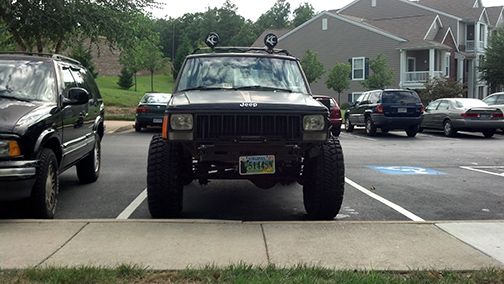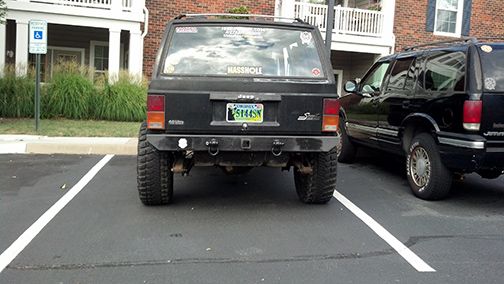 Not interested in selling, parting out or trading for anything but a TJ Wrangler with a couple minor exceptions. I would consider trading for a driveable full size Cherokee or CJ with an auto trans.