....a 1979 CJ5. long story...long , i work for a road materials and ready mix company as the accountant. our company's oil and diesel vendor sales guy comes by once a month and takes me and one of my co-workers/good friend to lunch....he's our favorite vendor
an older man with plenty of good stories, knowledge, and good company. also has an 84 CJ 7 and is having a custom 32 ford hot rod being built.
anyway, we've known him for a couple years now and he always knew my black TJ. and knew i sold it. and knew i wanted to get another jeep. we went to lunch on monday and he asked if i was still looking for a jeep. i told him i had just picked up another TJ a few weeks ago. he said, well a friend has a CJ5 he wants to get rid of. he said the guy tried to get him to take it, but he said he already had the CJ7 and was probably going to be selling it as it is. he said, i know someone that would love to take it off your hands though. i asked how much he wanted for it. he said, he doesn't want a thing for it. he has 4 other jeeps and doesn't need the money.
my buddy and i told him we wanted it. he called his friend who we later found out is the owner of the oil company (no wonder he doesn't need the money), and told him we wanted it. he said it was already loaded on the trailer and he would drop it off in a couple days.
i got a phone call this morning from Tim saying he would be here at lunch to drop it off. he pulls up in his brand new F350 and the CJ5 sitting on the gooseneck trailer. we set up the ramps and i pushed it off. we stood there and talked for a few minutes, he handed me the title and the keys and took off.
he bought it several years ago to use on his ranch to hunt with, but the first engine had issues so he parked it. later he put a rebuilt engine in it and drove it for a while and then parked it again. it had been sitting for a couple years in the barn so it doesn't currently run. he figured it would probably just need to be opened up and have some lubing done.
since i have the TJ and hardly enough cash to do much with it now, rather than let it sit in my garage, my buddy is going to put the money into the 5 and i am going to do the work; we'll both wheel it.
a couple pics i just took...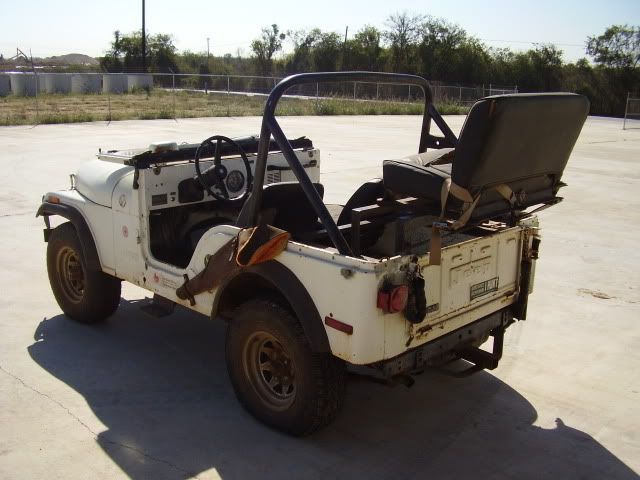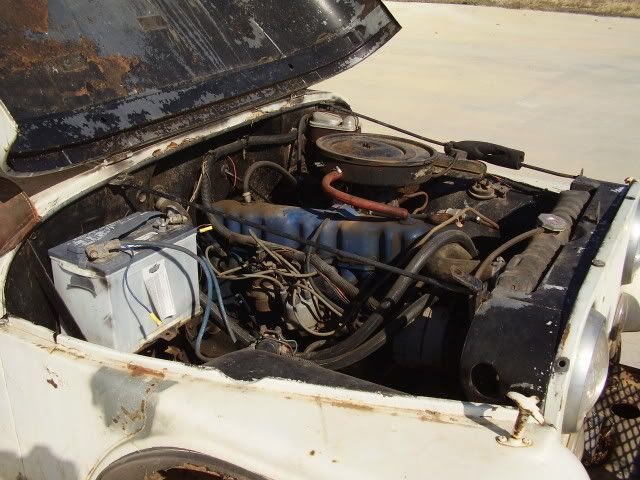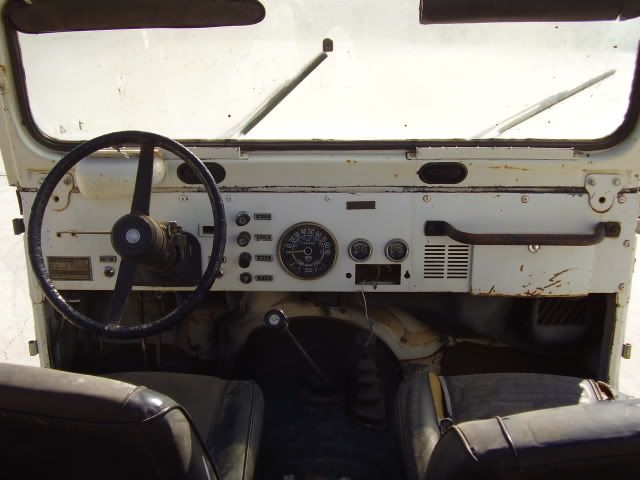 it needs a lot of work of course. but for the price of FREE, who cares.
there are some small rust spots on the outside of the body and very few small holes on the passenger floorboard. it looks pretty good underneath, from the quick look i've taken in the last hour. it looks pretty solid overall. we'll see when we start tearing into it.