Let me start off by saying I'm a newb to jeeps. With that said I have been putting my jeep back together and have a few questions. If I should break this post up let me know.
So, I have a 99 Sahara, and I know they can have the dana 44. First question (a common one) is this a dana 44?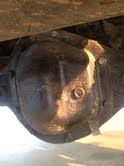 Because I think it is from what I looked at, but could be wrong because again I'm new. Also my dad's Willys edition looked the same and wasn't for sure about them having that option.
Second question I replaced my factory fenders with tube fenders and now I must change my turn signals/side markers. I have the lights already some led (small round one for the hole and a flat side marker one). But was wondering what wires on the jeep do what; ground, blinker, and light. I was told I won't be able to have both the lights blink at the same time, without some serious work. I am fine with that. I just want the round one to blink and the side one to stay orange.
Speaking of lights the PO had some KC lights by the windshield that were no longer hooked up and was wondering do I need a relay or can I run a wire to a switch and the switch to the battery or do I need a relay. If I do what kind should I get? (I know I need a ground and can do that)
Here is a pic of my interior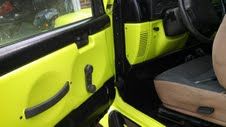 See the faded Sahara seat, it needs to match. I'm looking at getting the trek armor seat covers because I've read good reviews here. I'm only getting trek for the front and something cheap for the back. Because it's folded most of the time and no one sits back there. With that said I was wondering if I should get all black covers or black with graphite inside. I know this a pure aesthetic question and it is my jeep, but I just wanted to know what others thought. Or if there is a something better.
Thanks in advance.