So since my stock skid plate looked like this:
I figured that I would replace it with something a little more sturdy. I searched around for a bit and narrowed it down to the skids offered by Rokmen and Savvy. Since I don't have a body lift, I would have had to buy the spacer to go with the Rokmen skid, so the the price was pretty close to being equal between the two. After taking another look at the rust on my stock skid, I decided to go with the aluminum skid from Savvy so I could avoid the whole rust issue this time. I must say that the Savvy skid is a pretty nice product. It came with new tank straps too, which was nice because my stock ones weren't in great shape. The install went pretty easy. It was a bit of a PITA to get the tank/new skid back up into the Jeep by myself, but I got it done. My biggest problem was that little red tab on the electrical connection. I used a screwdriver to pry it out and it went flying off to a REALLY good hiding spot
. After about 45 minutes of searching high and low in the garage and up underneath the Jeep, I finally found it. It had somehow flown through the rear track bar mount and came to rest on the axle tube under the track bar mount. I was a little PO'd by that point, but relieved to find it. Anyways, here's a crappy installed pic since it was dark and I was confined to the garage:
Now, on to that extra bonus. When I bought my Jeep in January, the fuel gauge wasn't working. I searched around a bit online and figured it was probably a bad sending unit. Since those are pricey, I wasn't in a hurry to replace it. Well...I was wrong. It was not the sending unit. It was mice.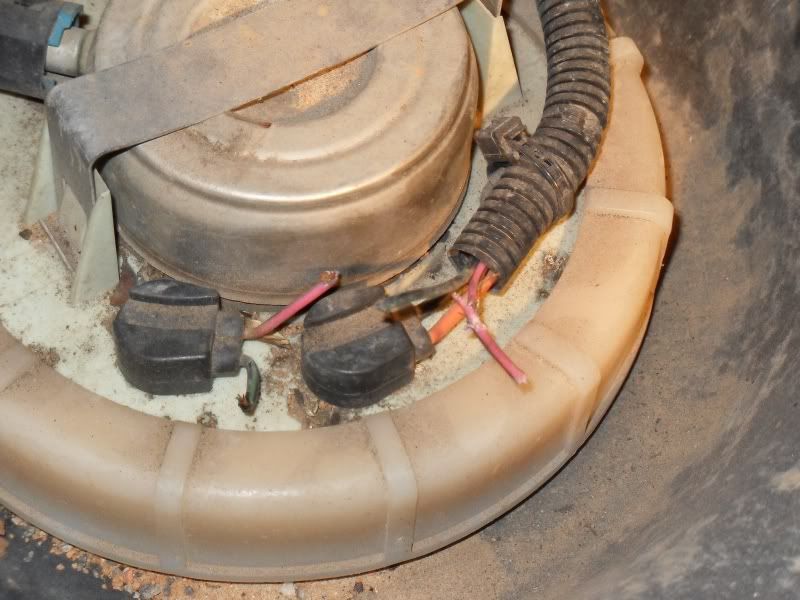 I fixed the connections in hope that it would fix my fuel gauge. With my luck, I was figuring that it wouldn't fix it. But it worked! So now my fuel gauge is working again. I'm pretty excited about that because I figured it was only a matter of time before my dumb a** got stranded somewhere