I am researching what to do with my 94 Wrangler with significant rust. Not SEVERE as some but rusted through the frame on the rear passenger side.
I found a diagram of the frame with dimensions so I inputed it into AutoCAD 2012. From that I constructed patches for the rear. When I started laying them out I found I was using a lot of material and making a lot of cuts.
So, I relaid it out with the sides on 4" cold rolled flat stock and the bottom on 2.5" flat stock. This will require 3' of 4" and 15" of 2.5" flat stock for each side. The thing is that it minimizes the cutting.
I have not printed and applied them to the frame, and won't for some time. So, I figured that I would just post them for anyones interest.
I have them in AutoCAD and in PDF format. If you print them on 11x17 paper they should come out to scale. If you get the PDF files you should be able to print them direct, to scale.
Then it is a matter of printing, cutting out, fitting to frame, transferring to the metal and go.
I priced the metal and (1) 10' stick of 4x1/8 A-36 was about $16. (1) 10' stick of 2.5x1/8 A-36 was about $12. So, $30 and good to go on both sides.
The patches do require welding at the juncture of where they redirect. But if one is welding the entire thing, that shouldn't be an issue.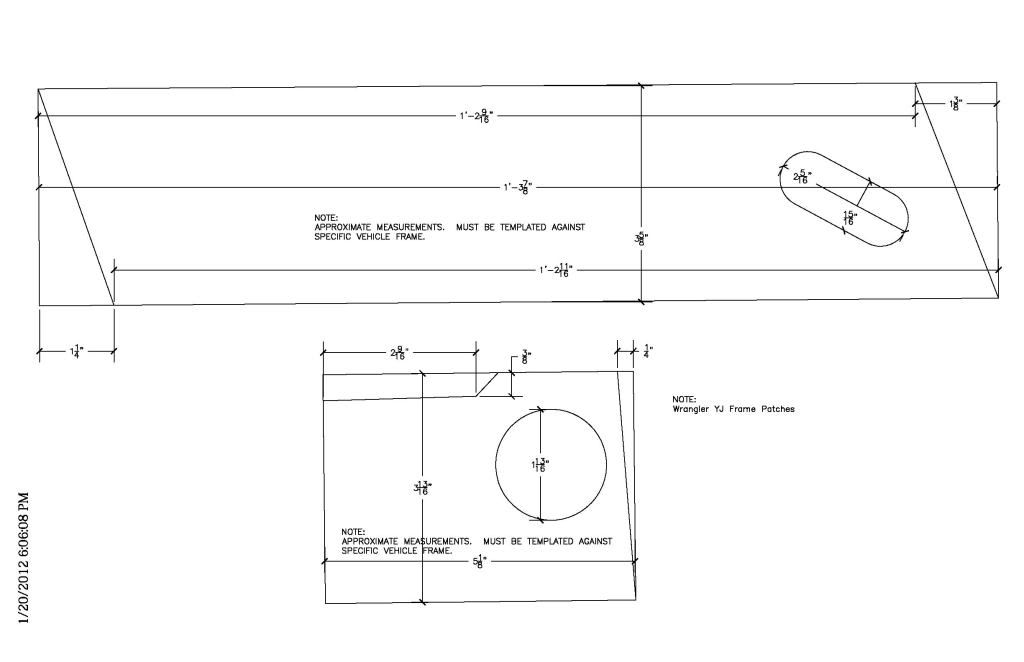 Hope someone can make use of them.