I am assuming you have this style internal slave then?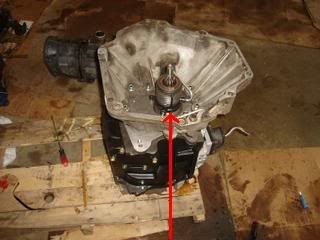 Internal Slave Cylinder (inside the bellhousing)
The external has it mounted on the outside of the bellhousing.
I know the internal is non rebuildable not sure about the external though.
But they are both capable of bleeding
If you do have the internal than the line that runs out of the passanger side of the bell housing and stops is the bleeding side. bleeder screw is on the end use a 1/4 inch wrench and hold it with another wrench.
Make sure all the bolts are out of the bell housing before prying it away from the engine. I believe there are 8 large bolts that come off the bell housing. If you are unsure about prying you can just as easily wiggle and shake the crap out of it and it will slide off just the same.
I pry it alternating from side to side to keep it even about half way up the side of the bell housing between the engine and the housing ( you need a small crack to start prying of coarse).
The inspection plate is must have. You would not want anything to fly up in there and hit your flywheel or clutch.