To answer your question, yes, you can take out all the extra wires, solenoids, sensors and even the ECM. The ECM exists solely to run the carburetor and all the solenoids and sensors tied to the engine tell it how to set the timing and carb.
You need to check and see if the Nutter has actually been done. My 90 had a Weber carb but the Nutter wasnt done. Follow the purple and orange wire from the distributor thru the wire harness and see if it joins two wires of a different color (I forget, green and white maybe?) directly to the ICM instead of running in thru the firewall. This is the timing part of the Nutter.
Get an FSM and use the wiring diagrams for colors of the wires leading to and from the ECM. You can start tracing them down and pulling them out. I ended up with a full grocery bag full of wires, sensors and solenoids.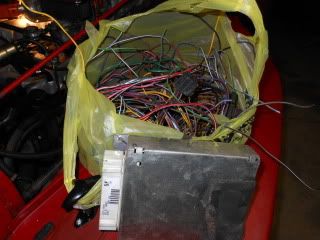 The dash gauges have separate sensors so you wont kill any of your dash.
Its amazing how uncluttered the engine bay gets without all the extra crap.
Good Luck!