I've had this issue before on my 2008 Wranger, and now again on the 2012. (the 2008 was totalled when an Explorer crashed into me on the highway)
Here's what my front tires look like after a single hunting season. I've got at most 100 miles on dirt roads with lots of rough spots and several rocky sections. I've got just over 20k miles total. I'm -fairly- sure there was no abnormal wear before hunting season started a bit over 2 months ago.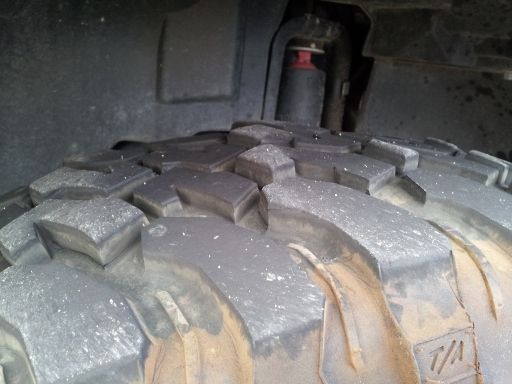 The front tires have this severely uneven wear going on. The rear tires are wearing evenly, and they're not bad at all.
Back with the 2008 model, my favourite mechanic said my shocks were letting the front tires bounce too much. I was skeptical, but the replacement job cost barely over $300 for some adjustable shocks so I let him do it. To my surprise, it worked great and rode a lot better. At least one hunting season after the change left no odd wear on the front tires at all.
I thought the 2012 shocks looked different than the 2008s. I guess not in any way that counts as far as this problem is concerned.
I'm driving pretty rough on these roads... a bit too fast, but I only thought "crap, that was too hard" once or twice.
Maybe I need to recalibrate my sense of what's good dirt&rock driving. The only problem is I'm too often running late getting to my stand before the sun starts to come up and so I'm pushing it a bit. I'm not sure that's going to change.
Any advice? I'm tempted to get the shocks changed out again. Unfortunately, my old mechanic has retired and he's no longer reachable... so I'm going to have to dig to find any trace of what specific shocks we'd picked out on my 2008. Has anyone had this problem and fixed it with better shocks? Which shocks?