So I decided I wanted a beer tap as a shifter. Which one? Certianly not a typical Budweiser or other domestic brew. I decided on one of my favorite beers: Guinness! This tap handle was not only beautiful and simplistic, it so happened to be the actual one my local Irish pub used. When I heard they were changing it to a newer style, I asked for it and they happily obliged! This one is shaped perfectly to grab whether pouring a pint, or shifting gears in my Wrangler! If you ever wanted to have one like mine and want to know how to do this mod, read on.
My Wrangler is a 2012 JKU and the shifter is smooth and not threaded at the top like some vehicles are. It's also a manual 6-speed, not AUTO. The shifter 9/16" in diameter by the way. Not sure about other years.
***Disclaimer- if you attempt this mod and damage your vehicle or yourself, I'm not responsible. Proceed at your own risk. ****
Tools/parts needed:
Beer tap!
screwdriver to pry off old shifter knob
2-part epoxy resin
drill and bits
painters tape
4" metal shaft (optional)
vice
cutting tool (dremel, sawzall, etc)
foam/crack filler (optional)
The first thing you need to do if figure out which tap to get. Mine was free but they average $30-$60 on average online doing a search. My Guinness tap is more expensive since it is made of porcelain and is inlaid with 24K gold. Doing a search, mine averages $129 each. So it's all about what you want. One thing to consider though is that although mine is porcelain and durable, it's also a beeotch to cut.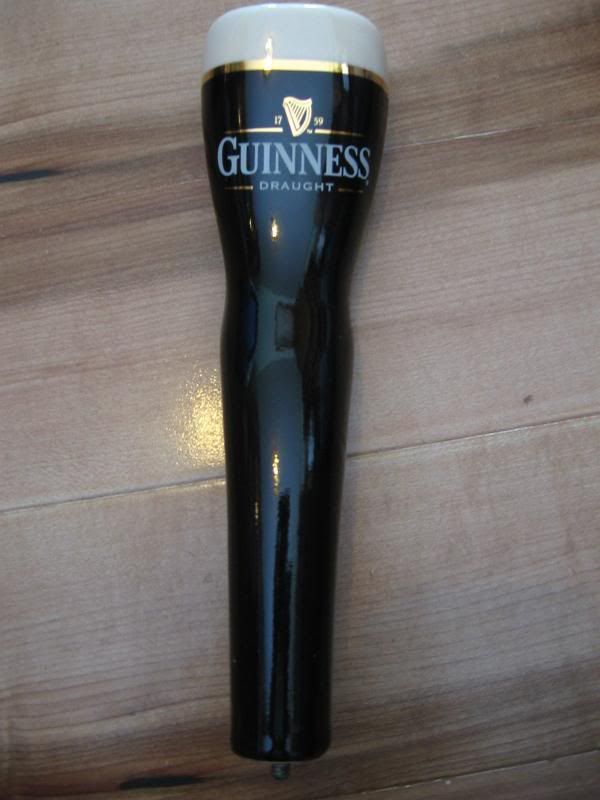 Anyways, with mine and probably most taps I've seen, there is a hinged thing on the bottom connected to a bolt. Don't even worry about it as most taps are also too long and you will be cutting it in half anyway. I cut off everything longer than 6". You won't be able to go longer anyway because if you notice, the shifter isn't straight. It has bends in it and mine went down to the first bend which is fine since that's where the boot comes up to, at least on my 2012 it does. If it's porcelain, you will need a blade that cuts stone and masonry. Trying it with anything else is wasting time. Nothing will come of it. If it's plastic or wood, great. Before I cut my tap, I wrapped it in painters tape and cut along the line below it. Leave it on until you're completely done too in case the epoxy get on it or the tap splinters if wood or plastic. Keep in mind if you have a solid core and it isn't styrofam inside, you may be able to skip alot of this mod by drilling a tiny hole into the tap on the side and into the shifter so a screw can be inserted.