I think you would want a 30"X30" sized cargo net to cover the whole back area. I have a 30"X15" for the back of my 2dr. It covers just a bit more than my cubby lid. You can see it in this video I made below. I got it at Lowes for $10 and it has helped a ton with keeping grocerys and stuff secure, even while being doorless and topless.
Shop Secure Tite 15" x 30" Mini Cargo Net at Lowes.com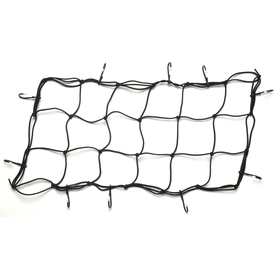 If you search on amazon you will find a ton that are 30X30.
I would also sugest going to home depot. They have 48" bungees that have carabiners on both ends. They are about $5. I would get a couple of those. I also have a few other bungees in the back that are a bit smaller that I keep in the cubby. They come in very handy too. I put 2 Rubbermaid containers in the back before wheeling and they will stretch to hold them both down. I would guess they strech from 4' to about 6'. They help out when getting toilet paper or propane tanks.
LINK>
Keeper 48" Carabiner Bungee Cord-06158 at The Home Depot