In Indy I was given a $500 quote for Line-X if I did all the prep/removed passenger seat. That was for a 2-door. Its nice but that is a bit more than I want to spend. I've been through probably 1000 post talking about bedlineing the tub. From what I have found U-Pol Raptor liner and Monstaliner are the 2 best DIY options. Here is my notes.
Herculiner
seems to get pretty bad reviews over all. It is easy to find for about $75. Lots of people have had problems with it fading, though it does come with a UV protection to put on. It has choped up tires for the grit that seems to usually not come out all that evenly and is very abrasive. It also doesn't let dirt wash out all that well from what I have read.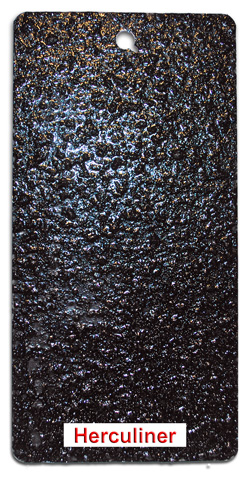 Rattle can rust-olum/duplicolor
don't seem to get used very often at all. It seems like those would be about the cheapest options and pretty nice because you could do touch-ups if needed. Powderburn just did a post not too long ago using the gallon rust-olum -->
http://www.wranglerforum.com/f33/bed...ct-162110.html
U-Pol Raptor
is a spray on application that comes in a kit with the gun for around $110. It does require an air compressor and masking materials. It's what ThrashN used in his above (I reposted a pict below). People have said that it washes out nice, has stayed in good shape for 2+ years, and is not too abrasive ( and just a bit slick). They have a package that can be tinted.
I have seen just a very very few post where people have had it come up on them. I'm assuming that this was from taking the sound goop out to bare metal and then not priming the bare metal surface. The instructions say that you need to rough up the paint or prime bare metal.
You can get a finer texture using higher pressure and spraying a bit from a distance.
With it you want to be careful not to tip the sprayer 90 degrees when full or it will run out the breather hole. For this reason when you get near the end of the bottles it is good to do around the pedals and places that need it to be tilted.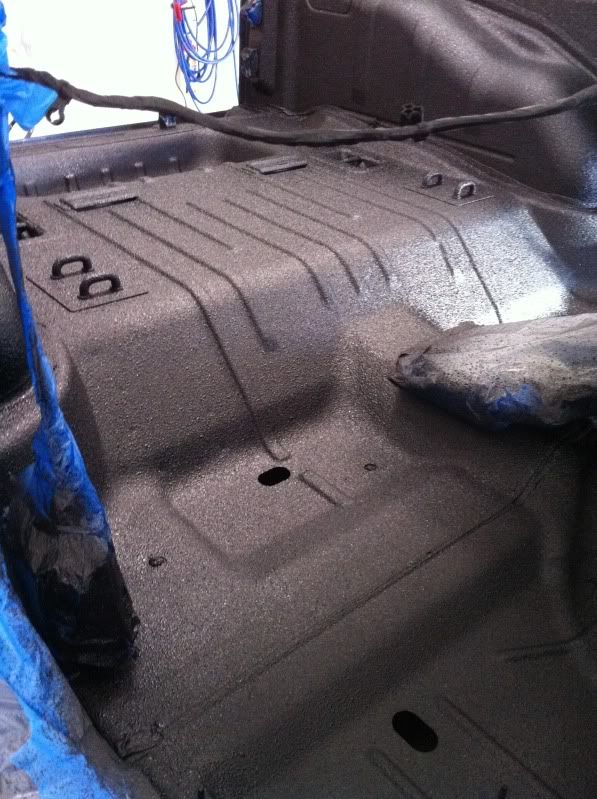 Most people were using 3 of these containers below to do a 2 Door.
Monstaliner
is a roll on application that comes with some rollers for about $130. You can get it in a bunch of colors or tint it yourself. You do 2 coats and the texture can vary depending on how you put that second coat on.
They will send you a few color samples if you get on there web page and request one. For the most part people seem to be loving it. It can also be sprayed.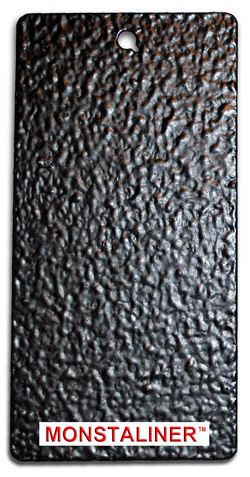 They have a big comparison on there page about the different options -->
Monstaliner do-it-yourself roll-on truck bed liner - competitive product comparisons
General Tips
When your removing the bolt that holds the rear seatbelt down in a 2 DR you want to tape it too the roll bar or secure it somehow. Someones write-up said that it could get ruined if your not careful and it rolls all the way up.
It's best to do when you will be able to have the windows out because it will stink for awhile.
Put extra where it will get extra wear.
To plug holes you can use golf tees, wads of paper, or ear plugs.
Make sure to remove the masking before it dries completely. It looks like you should be able to put 2 coats on before it needs to be removed.
Wear Gloves because it isn't going to wash off when it gets hard for a few days at least
Removing the Goop
People seem to like the heat gun.
I have heard that water works well to soften it up.
I also heard of one person useing strypeeze
Anybody strip out the carpets + plastic parts - Page 3 - JeepForum.com
.
Another person used a dremmel "Multi-Max" with good results.
You have to be carefull with the air chisels not to go through the tub. One guy said he did that.