This is not my Jeep. It is a friend's but since Poison Spyder's directions left a bit to be desired, I felt that an install thread could help answer some questions.
The part
Jeep JK 4 Door Brawler Rockers | Jeep JK Rocker Protection | Jeep JK Rocker Sliders | Jeep JK Rocker Armor | Poison Spyder
Poison Spyder's instructions aren't terrible so I won't cover every one of their steps, but I will fill in the gaps.
Tips:
- Use a variable speed drill
- Get sharp/new bits
- A quality center punch will go far
- Get a precision measurement device such as calipers
- Clamps are vital.
1) It seems weird to mount the upper part first and then bolt the lower part. How would you know if everything will go together? It's scary when you have to drill holes in sheet metal. We bolted the two pieces together, lined everything up, and it wasn't good enough. Poison spyder was smart enough to build in some wiggle room, so don't sweat it. Measure the body armor so that it is even to the front and back and as for the height, aim for just 1/16th or so lower than the door sill if not less. It will all work out...
2) Use the clamps to hold the body plate in place. Use the center punch to mark where you want to drill and drill a hole in either of the more outer holes.
3) Remove the armor, drill the two holes larger and insert the nutserts.
NUTSERT TIP! Modify the nutsert! If you use it as it comes, you will likely mess up the nutserts. We had to file one down. The bolt is 1/4 by 20 so all you need is a few 1/4" fender washers. Get high quality washers or the grade 8 bolt head will shred right through the washers, making the process much harder.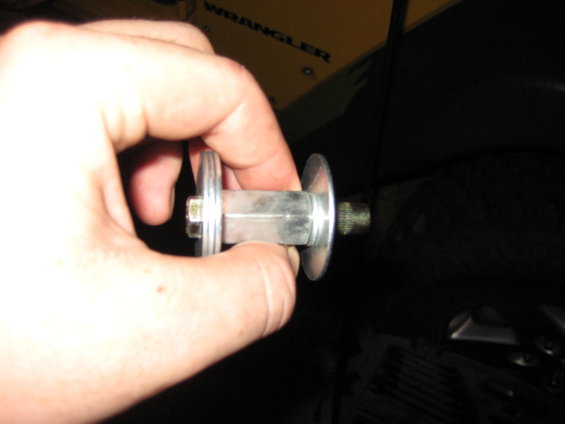 4) Reinstall the armor and drill the rest of your holes. Be very careful and take your time.
5) Remove the armor and drill all of the holes bigger. TIP, use the drill at a high speed and steadily press into the sheet metal. Have a friend occasionally spray WD-40 or an equivalent as your drill to keep things lubricated. You DO NOT want that bit to grab the sheet metal and wallow out the hole.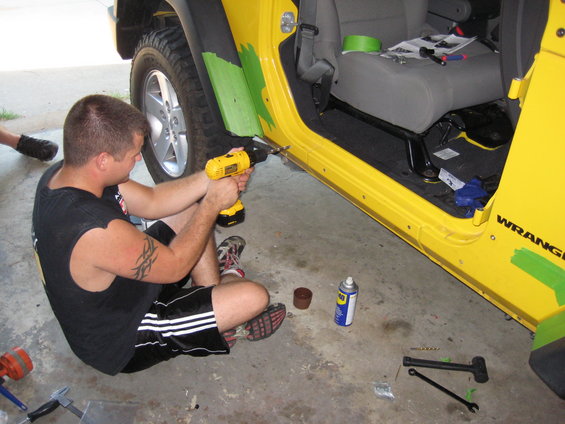 6) Insert all of the nutserts. This is easiest done with two people. Have one hold the coupler while the other spins the ratchet.
Body armor on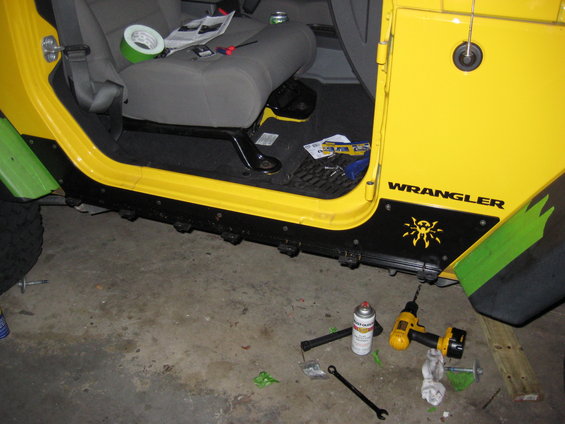 7) Slip the speed nuts onto the side armor and then put on the lower rocker following the instructions. Tighten things slowly to ensure that it is all centered.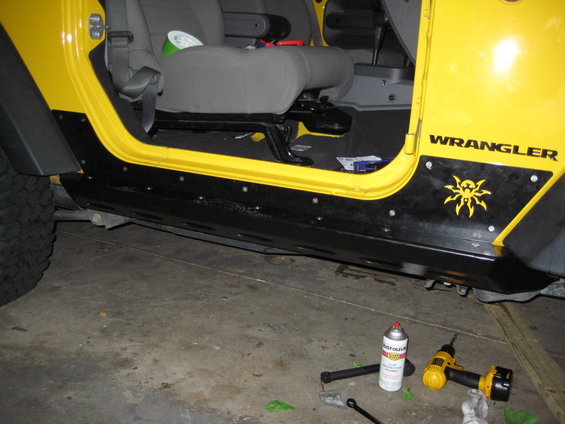 Be very patient with the install. It took us around 5 and a half hours to complete it but it went amazingly well.