Your right, the linear spring has one set spring rate that is carried through the entire spring. Progressive springs have tighter coil spacing on the top that gradually increases the stiffness as the spring is compressed. The coils collapse onto each other forming a solid ring. But, let me introduce a 3rd option for you, Dual Rate springs. Similar to progressive they have a tighter wound portion on the top, the difference is that they compress independently from the bottom portion and form a two step spring compression. This is a great illustration
Once the top coils are compressed they form a "Virtual bucket/perch" for the bottom portion of the spring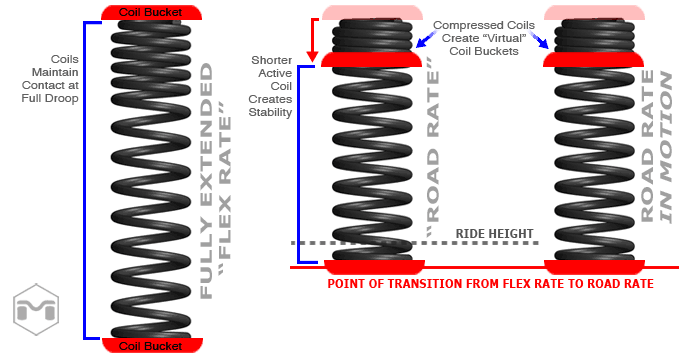 So what are the advantages and disadvantages for each.
Linear:
The biggest advantage for these is the price point. They are the entry level spring option. The disadvantage is that its would set spring rate. If its too soft, it will feel great on the road but offer very poor handling, especially on highway speeds and too much travel on the trail. If they are too stiff they might be better on the trail and highway speed handling but will not be comfortable on the road.
Progressive:
progressive springs try to address the varying spring rate issue depending on the driving taken place. If your on the highway or on the trail more of the spring is compressing onto each other and firming up the spring rate, providing a stiffer more stable ride. If your going slower and around town driving, less of the spring is compressed and its a softer more comfortable ride. The only disadvantage with progressive springs is that a lot of the stress is put on the last couple of coils. Over time poor quality springs will lose tension on those coils and will begin to sag. AEV offers progressive springs on all 4 corners, RK just offers them on the front and linear in the back. RK's decision to run their kits like that is because they don't segment their kits between 2 and 4 door Jeeps. By not doing that they can't control the weight variables between the two Jeeps.
Dual Rate:
Dual rate springs build up on the progressive idea but its like two different springs fused together. The top is softer and will collapse onto itself easier than the bottom. This will help with around the town driving by offering a comfortable and controlled ride. As the drive gets more aggressive the top fully compress and becomes a solid "Bucket" acting like a new spring perch for the bottom perch which is a stiffer spring. Once the bottom spring takes over it offers a stiffer and more controlled ride. The negative with Dual rate springs is finding true dual rate springs. A lot of manufacturers claim to have dual rate springs but in reality they are just progressive. They look identical but work differently. Metal Cloak is a company that offers Dual Rate springs on all 4 corners. They also offer vehicle specific (2 door or 4 door) springs and soon will have a 2.5" spring option for the 2 door.
If your interested in more info, check out this thread
http://www.wranglerforum.com/f33/lif...ps-221119.html