Just got this in the other day. Very cool. Its basically a sun visor organizer for your rig but it has MOLLE webbing on it so you can attach gear. Seems very well made (made in the USA actually) by Zulu Nylon Gear. Two rows of the webbing is elastic, making it easier to fit items through.
Just thought it was a really neat idea. Of course, I do have a GHB (Get Home Bag) in my Jeep but it is really nice to have some equipment instantly accessible without having to search through the bag or center console. This also freed up some space in my glove box which was starting to look like a junk drawer.
Anyway, here's some pics. This is what it looks like in its normal position. On the front/bottom of the visor panel I keep a Rite In The Rain notepad and a Fisher Space Pen. Also, I now keep my vehicle registration and insurance papers on this side too instead of in my glovebox.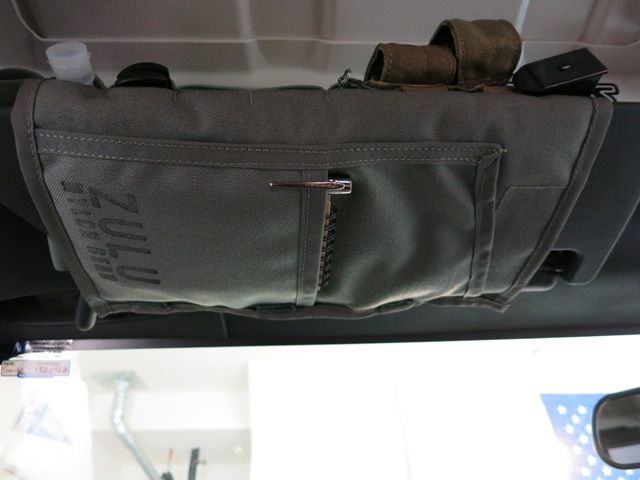 On the other side (with the visor flipped down) I keep a chemical light, a Kershaw Blackout, Bic lighter, Advil, and a Victorinox Classic. In the magazine pouches I keep a multitool (Victorinox Swisstool) and a Surefire 6PX flashlight. Lastly, you can see a spare magazine to my CZ75.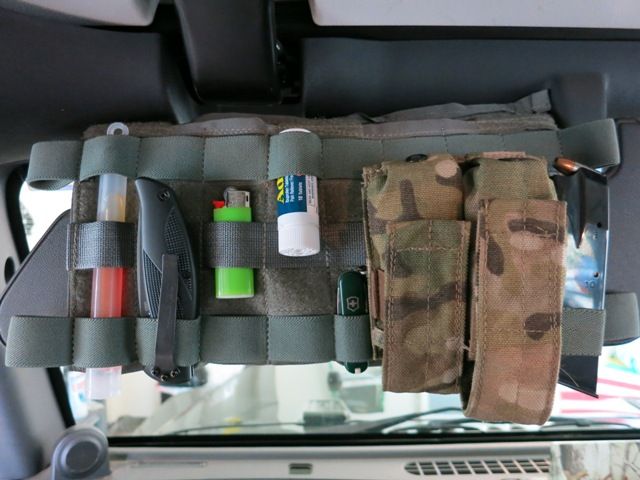 I'm very happy with this product so far and it seems like it holds the gear very secure (my main concern) while still being very convenient to access. Sootch00 has a video review on it as well if you're curious to see more.