For those of you that haven't installed one of these (yet), the $25 kit includes a new spring loaded accordion style boot that slips over the shift shaft and a fixed rubber boot for the bracket side that, when installed, sandwich the brass bushing.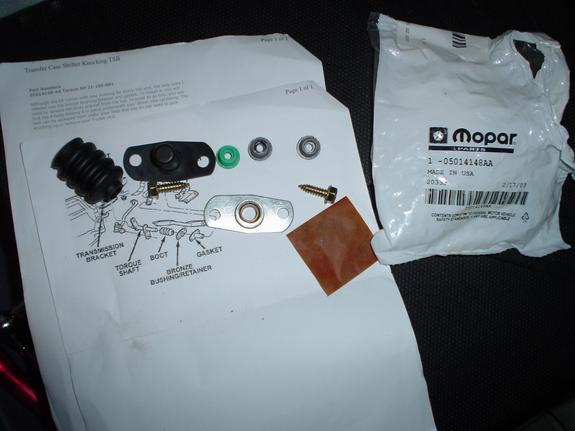 These parts were not part of the original design. It also appears that the bushing itself is of a newer design as the new bushing is actually a ball that is free to swivel in its holder. Maybe the original did too but, without the boots, and after 8-9 years of exposure, mine weren't and the brass was just wearing away against the shaft resulting in the clunking noises.
When I installed mine I loaded up the 2 rubber boots (both sides) full of grease to give the new brass bushing the best possible chance at the next 8-9 years.
The kit also comes with 3 new plastic linkage bushings, but mine were fine, and it looked like a pita to remove them, so I did not bother installing those. Also the kit comes with 2 self tapping screws to replace the original machine screws. I assume that is because they expect the threads in the bracket to be rusty and hosed-up from removal. Mine were OK, so I just cleaned them up and reinstalled them with a little anti-seize rather than butchering the threads in the bracket with the self tappers.