Quote:
Originally Posted by
tjnut213
Have a 4" Fabtech short arm suspension lift on an 04' tj Sahara, I am not too mechanical and I just wanted to put some more heighth on without a body lift? I have heard talk about coil spacers? I really have no idea too much on the lift portion of how to raise it without spending a lot of $$$$. Any ideas is much needed :]
lots of bad info in this thread...lets fix that...
Spacers on top of lift springs is a horrible idea. You don't want to add 2" spacers on top of your 4" lift springs for multiple reasons.
First -
what tire size do you expect to run?
35's are the largest you can run on stock axles (and thats modified with gears, alloy shafts & bigger brakes). You'd need 1-ton axles or other custom axles to safely run larger tires. You can fit 35's on the stock axles with proper modifications, like
bumpstop extensions
.
The best setup for 35s is a 4" lift, with a 1" BL. A 1" BL is barely noticable, yet allows you to run 35s, with only 2" of front bumpstop extension and ~2.5" rear bumpstop extension.
Next - coil spacers on top of lift springs will subject the springs to coil bind. This will damage your springs. Springs have a physical size. When they compress, the coils stack on top of each other. Once all the coils are completely stacked on each other they have no place to go, but if you continue to attempt to compress them the coils can stretch or deform around each other....which causes unrepairable damage.....they can even crush isolators or spacers that are on top of them (
Example
).
For terminology reference: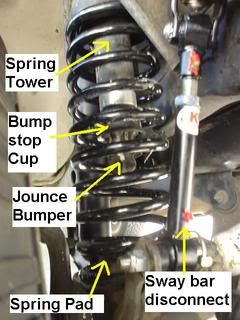 Adding spacers will only give you extra clearance at ride height but thats it. At full compression they don't do anything except reduce the physical area the spring has to compress into...unless you've extended the bumpstops the same distance as the pucks. Ideally, if you want an extra 1.5", you'd get springs 1.5" taller than what you have now. It's not intuitive, but you want to find the spring rate & unloaded length of what you have now, then back out how much height you want and what unloaded length & spring rate will get you there.
Assume a stock rig.
Now add a spacer under the isolator. What changed?
Shock length for sure. How? Longer.
Isolator to spring pad on axle for sure. How? Longer.
Bumpstop cup to spring pad? How? Longer.
Bumpstop cup to Isolator? How?
Shorter
.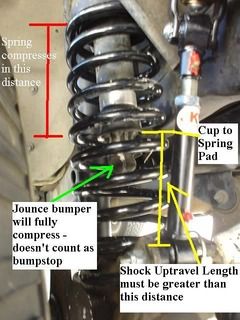 Remember - The only thing that governs the distance from the hub center to the fender is the bumpstop length, compressed shock length (as described below), or physical fender location.
Next-shock length.
With 6" of lift, you'll need new shocks. You'll then need to adjust the bumpstop extension length accordingly. So when you combine the bumpstop extension required to avoid coil bind, and the 6" lift shocks, you'll have little uptravel.
Half the point of a lift is gaining uptravel...why lift a Jeep to have barely any extra uptravel over stock?
Almost every 4" lift out there has 15" compressed length/25" extended length shocks - remember I said 13.3" was about max for putting them in the stock towers? Well, a GOOD 4" lift, with 15"/25" shocks includes 2" bumpstop extensions to prevent the 15" shocks from bottoming out. Otherwise the shocks act as bumpstops themselves, which ultimately destroys the shock or wrecks the mounts, whichever is the weakest link.
Next- SYE/CV shaft. So, at 6" of lift, we've covered you'll need the following:
1. New shocks for 6" of lift
2. more bumpstop extension to avoid coil bind & shock damage.
But theres also:
3. Longer brake lines
4. Longer sway bar links
5. Control arms -front lowers and rear lowers and uppers
6. A SYE & CV shaft
On Control arms and SYE - You'll have very bad vibrations at 6" of lift without a SYE. The vibrations will destroy your transfer case, u-joints and pinion over time. You install a double cardon shaft to fix this. The double cardan shaft then requires adjustable control arms to set pinion angle.
You'll also need front lower control arms to correct caster with that much lift. If you don't address caster, the Jeep will drive very squirrely. There will be a trade off between caster and pinion angle with 6" of lift.
And with 6" of lift on a short arm lift, the suspension is going to ride like crap and its going to flex like crap.
Remember-The only thing the spring does is keep the bumpstop cup off your axle pad. Springs and spacers don't have anything to do with tire clearance at all - except at ride height, without the Jeep in motion. Springs & spring spacers don't tell you any information about whats happening where it matters - when the suspension is cycling.
Read these:
http://www.wranglerforum.com/f5/pics...7-a-74587.html
http://www.jeepforum.com/forum/f9/om...l#post10102645
What is a CV shaft and why do I want one? - JeepForum.com
http://www.wranglerforum.com/f5/corr...gth-70047.html
So whats the solution if you want 6" of lift?
Get a 6" long arm lift, with SYE, CV shaft shaft, longer brake lines, 6" springs and upgraded steering & brakes.
or add a 1" BL & 1" MML to gain clearance for 35s with 4" lift.