Quote:
Originally Posted by
doclouie
So I am in the process of putting on a 3" suspension lift with a 1" BL. I know I need new brake line extensions, but which ones are the cheapest out there that will work. It does not matter if they are stainless or not. They just need to work. Where did you get your lines that did not break the bank. I have seen some as high as $150 for a set which is insane. Thanks.
yes, you'll need new brake lines. $150 is stupid.
I went with Crown stainless lines from Morris4x4Center. They worked ok till I swapped to Vanco brakes...I ended up grinding on the brake like to make it fit the Explorer calipers, and its still not great...it binds pretty bad against the shock at full lock & full stuff, and they rub at full lock. I'll probably grind on them some more, or try YJ lines.
YJ brake lines are popular-they're really cheap and about 4" longer. Chevy 1/2 ton brake lines are also populer, and cheap. They're a bit longer than stock too.
Figure out what length brake line you need by dropping the axle to full droop, turning the steering wheel to full lock and using a string to measure the length from the hard line to the caliper inlet. You should have some slack at that point, so that if you blow a shock you don't blow a brake line too.
Here's stock brake lines on 2.5" of lift (~22.5" extended length shocks):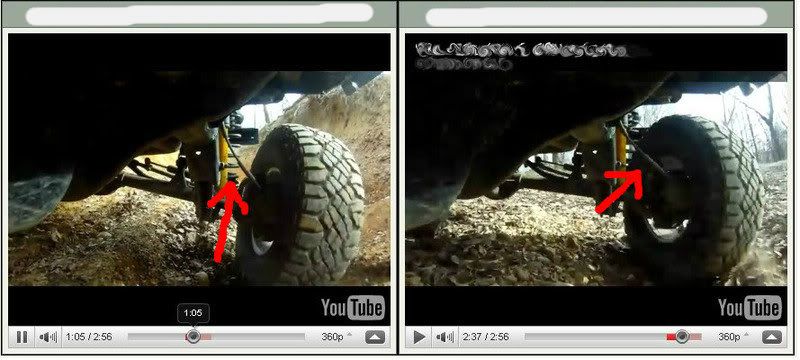 You can see the brake line is tight at full droop, and during articulation while steering. That was from another member on here, and his video is good evidence for brake line binding at full turn with droop.