Rear bumper install:
Ordered bumpers on Oct 5, my front bumper showed up on Nov 3. Needless to say the suspense was killing me! My rear bumper showed up on Nov 5th.
Here's what FedEx brought me this time: (some assemble required)
Very stout construction. Everything is made of nice thick metal, and has great welds throughout.
There's included hardware, and even a grease fitting and two rubber o-rings for the pivot.
Fortunately, I had a couple of gas cans and mounts laying around, but they were in need of some TLC. The paint was peeling badly, but there wasn't too much rust to worry about. I just had to clean out a wasp nest and repaint. (GASP!) Did I mention I'm allergic to wasps??
Here it is, fully disassembled, and the first black coat drying.
I will likely grab some sort of liquid rubber coating to put on the T-handle, but I can do that whenever.
These two mounts on top had me stumped ( far left and right on the top):
I had to look up his website, and realized that they're for a high-lift jack.
I'm not a big fan of high-lift jacks. I had one when I was younger, and I think I only used it once.
I do believe I can fab up a cargo basket to utilize those mounts, though!
Unfortunately, a storm front rolled in while I was painting the rear, the humidity went up, the temp went down. Not ideal for spray painting, and it shows. I went to lighter coats to smooth it out, but it looks like I may have to repaint in the spring
Here is the bumper without the swing-out rack. Unfortunately, the hinge wouldn't clear the taillight when I tried to put on the swing-out, so I popped off the taillight.
There are two bolts on each side that require the gas tank be dropped in order to install.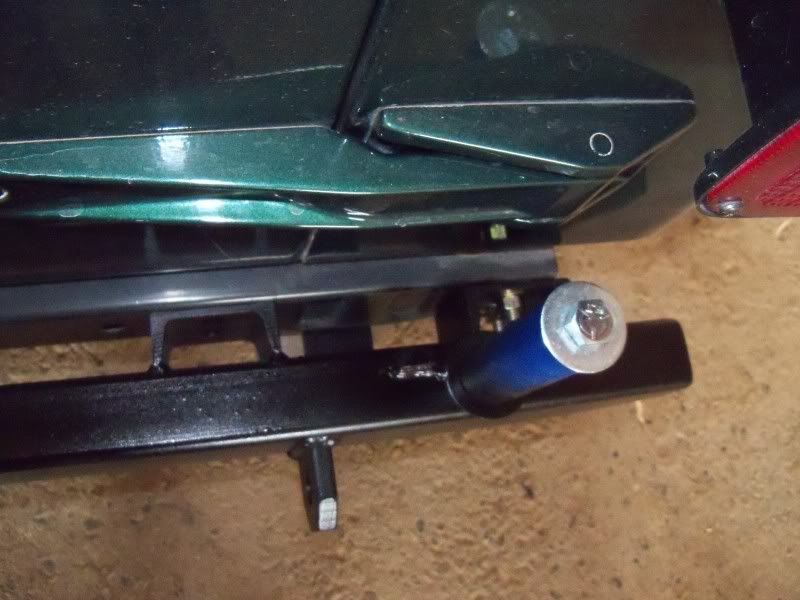 I opted to do these 4 at a later date, since I don't plan to have too much weight on my bumper for a while.
I took her for a spin in the desert, and discovered that the T-bolt would unscrew itself every ˝ mile or so.
I looked around online, and found no other information about this problem with Dirtworx bumpers. Every comment I saw had nothing but praise for every aspect of his work. So… I decided to try a few things.
I first tried a rubber washer (the bumper came with a metal flat washer for this bolt).
The rubber washer helped, but it would still come loose after a few miles.
Next I tried a star washer. This did the trick. I spent the next four hours trying to shake it loose.
I rattled everything else, but not the bumper. I even managed to send one of my climate control knobs flying – which I had rubber-cemented on in July.
After this very thorough shake-down (pun intended!), I must say that everything works as it should, stays WHERE it should, and makes no noise about doing it's job.
On a side-note, I had a great time trying to shake it loose!
This is my first write-up / review, so if there are any questions, feel free to send me a PM
BTW: I had the front, winch ready, welded-thru D-ring mounts, 4 light tabs; rear- his standard swing-out with gas can mounts, welded-thru D-ring mounts, and receiver, all done and shipped for $660.

Thanks Robert!