Quote:
Originally Posted by
lownslowVW
could i get away with doing no bumpstop extensions for now since its just a 2.5"lift and i dont plan on doing any, or much, flexing? or should i do them to be safe
if you plan on driving it, you need bumpstops.
improper bumpstops that will destroy your shocks & break the shock mounts. improper bumpstops have even been known to cause shock mounts to rip clean off the axle.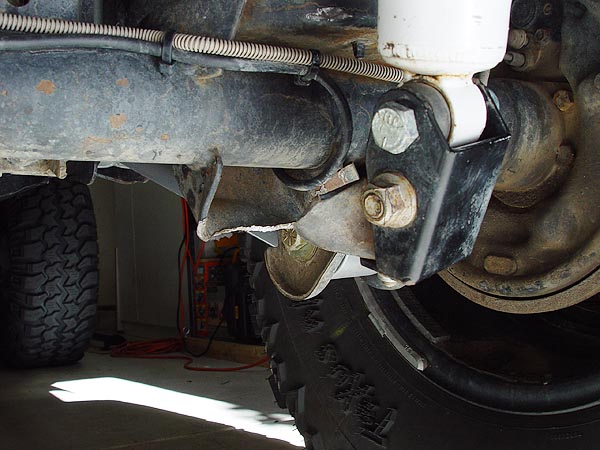 you can get by a while without bumpstop extensions...but while you've got the springs out is the time to measure for the length you need. So why install a lift and NOT check bumpstop length...you've got the shocks, you've got the tools out, all you need is a tape measure. figure out how much bumpstop extension you need & the bolt size and length you will need. For the rear, you'll just use longer bolts. For the front, you'll drill and tap the axle pad for 1/2" or 7/16" coarse thread.
Then buy the extensions online, run a week without extensions, and when they come in, drive to the hardware store, pick up the bolts, drive home, jack up the jeep and drop the axle to full droop, and install the bumpstop extension through the springs...once you know the length needed you can install it without pulling the springs.
Determining the length of bumpstop necessary for your new shocks is the tough part....you gotta pull the springs and it takes a few hours to do both front and rear. When you install a lift, everything is already there...once the stock stuff is off, put the new shocks on, push the axle up till the shocks bottom out, back off 1/2" and measure the bumpstop requirement. Heck, you don't even need to tighten the shocks, just set them in enough to get the measurement. Pull the shocks back off and put the new springs in, then install the shocks for good.
While you're doing the lift work, this is seriously an extra 10 minutes per axle on a 10 hour project....yet noone does it, and cheap companies like RC don't tell you the truth. Then you break a shock mount or destroy the shock and think you're cool because you wheeled hard...then they sell you a bar pin eliminator or whatever part, ignoring the root of the problem - bumpstops.