Hey all. I'm more of a lurker than a talker, but this is something I did yesterday that may appeal to other people, especially considering how dinky the stock visors are.
If you're tired of getting blinded by the sun through your driver's window each morning or evening, this may be a viable solution. There's no welding involved, no drilling holes in your Jeep, and at one point, you even get to hit stuff with a hammer to make it better. You just don't get to do that every day.
This was written for a TJ, but it should work fine on any Jeep with a side bar extending over the entry hatches. It should also work with soft or hard tops, with or without the roll bar's padding in place. If you go padding-free, be sure to use some rubber under the clamps to prevent damage and ensure a tight, slip-free fit. If you're using a soft top, you'll need to lower the top and remove the door frame inserts before fitting the visor assemblies to the roll bars. You'll also want to use adjustable hose clamps instead of conduit hanger clamps for the visor retention clips written about below.
Tools needed:
Phillips head screwdriver
Socket set with 8mm and 9mm sockets
(or SAE equivalent)
General purpose claw hammer (smooth faced) or ball peen hammer
Dremel rotary tool with cut-off wheels
Electric drill with 3/16" cobalt drill bit
(hand drill or drill press works)
Open faced hand wrench, 7/16"
Spade head screwdriver
(optional)
Maintenance reamer
(optional)
Channel-lock pliers and bullnose pliers
(both optional)
Parts needed:
Two sun visors from a full-size work van or truck
(OE screws not needed)
Six 3/4" 8-32 panhead machine screws
Six 8-32 locknuts to fit the screws
Two 2" adjustable hose clamps
Two 1 1/2" (#3) conduit hanger clamps
Two 2" x 1/2" lengths of rubber
(rubber hose, shoe sole, whatever)
What to do:
A quick note: This guide was written using a set of 1994 Ford Econoline visors, so if you run into some difference in what I've written below and what you've encountered, please reply to this thread. Also, the methods described below may or may not be the most appropriate. My tools are limited. If you know a better way to do something described below, please reply to this thread and explain it. Finally, if you use this write-up for your own project, you assume all the risk of injury and damage that goes with it.
Okay, here we go.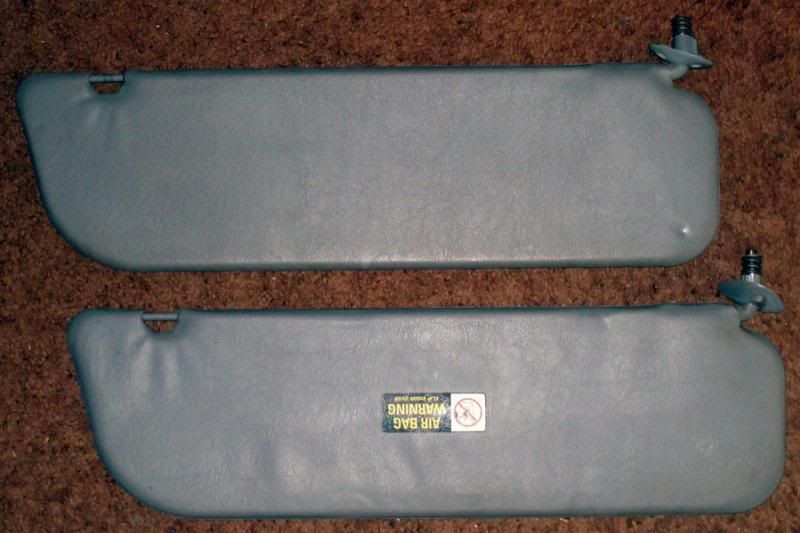 Get yourself the biggest visors you can find from the junkyard, which will be in old work vans or full-size pickup trucks (class A or B trucks will be overkill). The Econoline visors I found were perfect for the job. Whatever your source, the visors should have retention clips (those clips near the rear view mirror), so that both ends of the visors are supported. Vinyl is preferred. Get both visors AND their clips.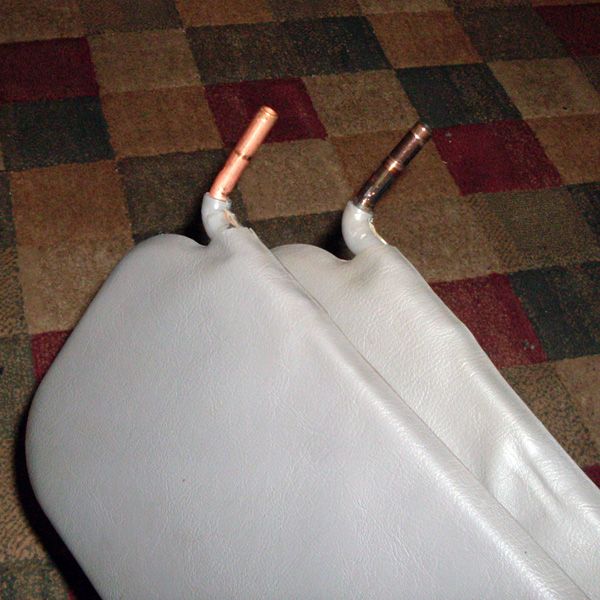 With the visors back at home, use the Dremel with a cut-off wheel to carefully cut the retention washer in front of the spring. Remove the washer, spring (don't worry, it's not under tension), mounting plate and any washers and retainers behind it. If there are any plastic sleeves on the visor posts, you'll probably want to remove those, too - or just wait until the next step, when they'll probably end up shattered and easy to remove anyway. Discard all the stuff you've already removed.
You'll find the visor mounting posts are hollow copper tube, which is easy to work with. Using a hammer and a solid base of concrete or steel, pound the last couple inches of each post completely flat (that's where those aforementioned plastic sleeves can get ruined). Once you're done, open your adjustable hose clamps and bend them flat. You'll want them in a minute.
Using the drill with a 3/16" cobalt bit, bore a through hole about 1/4" from the end of the flattened visor post. About 1/2" or so further in, drill another hole. Now get your hose clamp. You'll notice part of it has slots and part of it is solid. Line it up under your freshly-drilled visor post so that the solid bit is underneath. Re-trace your drilled holes and bore out the hose clamp to match your visor post. Be sure you line up both hose clamps in the same relative way, so each visor assembly will look the same when they're mounted. That is, try to have the clamp screw in the same spot relative to the visor.
Next, using some pliers or your hammer & a convenient form, round the visor posts slightly, so that each one will curve to better match the roll bar in the Jeep. Then get a couple of screws & nuts to join the hose clamp to the visor post. You'll want the screw heads INSIDE the hose clamp's circle, with the locknuts outside. Hold the screw head with a phillips head screwdriver and tighten the locknut down with a socket set, using a 9mm socket (or SAE equivalent). If the screws don't want to go through after you've curved the visor posts, a few turns with a reamer will open things up nicely, or you can re-drill. Once you've assembled both visor mounts, set them aside.
Get your visor clips. Using the cut-off wheel on the Dremel, remove all protruding features from the rear of each clip, so that you can set it backside-down on a table and it will lay flat.
Next, use a screw & locknut to attach each clip to the hanger screw hole on each conduit hanger clamp. The locknut should be INSIDE the clamp's circle. Line it up so that the visor clip is vertically in line with the clamp. Comparing the clip to the clamp bolt, have it set so that the open side of the clip is closest to the clamp bolt's nut. This will factor in later, during fit up. Once you've assembled both clip assemblies, it's time to trim the screws down.
Break out the Dremel cut-off wheel again and cut off the excess lengths of all six screws. To trim the clip screws, you'll find it's easier to open up the clamp a bit to approach the screw from the side. Trim them all and round-off the edges to make them look as good as you can and lose the sharp edges. If you want to paint these fixtures, now's the time. A self-etching primer and matte-finish paint would work well.
Next, head out to the Jeep with the visors & clips. You'll need a socket set with an 8mm socket (or SAE equivalent), a 7/16" open wrench, a spade tip screwdriver (optional) and your two 2" bits of rubber.
There's no really graceful way to install these things, so just do what you can. You'll want to clamp the visors as far back as you can on the 1 3/4" area of tube. Start tightening the hose clamp, but stop while it's still loose and insert a piece of rubber underneath the screw heads.
Once you get the hose clamp fairly tight, get the visor lined-up the way you want it to sit on the roll bar. About a third of the way up the inside radius seems to work well for me, but you do what's best for you, then tighten the hose clamp completely.
Next, open the conduit hanger clamp and slip it over the roll bar. Snap the visor into the clip, then feed the carriage bolt in from the clamp's backside, bottom hole (square). Slip the nut on at top and, while pinching the two ends together as well as you can, finger tighten the clamp Somewhat, so you can adjust its height on the roll bar. Get your wrench and tighten the nut completely. Repeat the process for the second visor.
Celebrate your fabrication skills by flipping the visors up and down a million times.