Tatton drivelines in SLC will send you the SYE kit (Terraflex kit) and an awesome long travel CV driveshaft for about $400 total.
You can call him and tell him what you have, what lift your going to eventually go with, he will ask you a few questions and then custom make your driveline and ship them to you.
His drivelines are a work of art, I left mine on the dining room table for 3 weeks, it was a shame to put it under the Jeep.
All this for $410 -
click here for ebay listing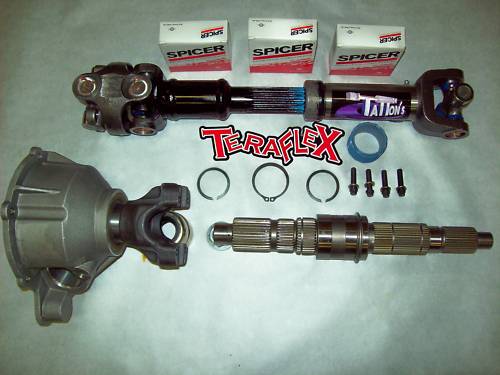 Installing a SYE is very easy, the hardest part is getting the transfer case out. You
can
do it with the transfer case still in, but personally I think it's easier the first time if you have it out and can see just what your doing. You won't need any special tools but you will want to go to an auto parts store and get some good lock-ring pliers (not snap ring pliers, though you need those too, but lock-ring, they are different). Just be careful to keep track of the parts as you go and remember how it comes apart and in what order, it really is a very easy job that feels very daunting.