Get Carling / ARB switches from Geeps at
www.otrattw.com
(as mentioned above) or
www.offroadtoystore.com
(ARB P/N 180209 IIRC). You can get a variety of lens colors. I didn't have any stock switches, so it was easy for me. BUT, I DO have ARB locker switches already, so this was a no-brainer for me.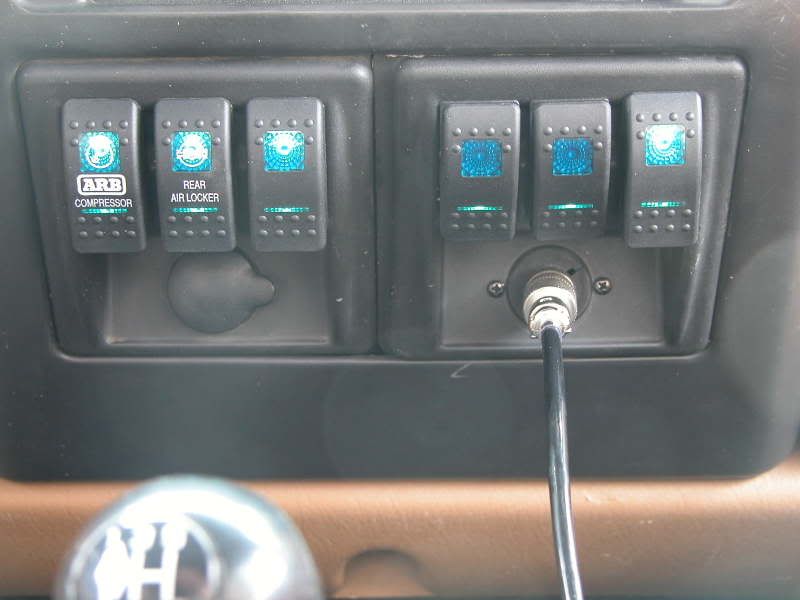 These are some of the BEST switches made. They are often used in marine applications so they stand up well. I would have gotten the switches from Geeps, but he was temporarily out of stock when I was ready to order. He DID have the actuators with the blue lenses like my ARB's, so I ordered from him. His customer service is EXCELLENT and he is VERY easy to work with. These fit in easily, but very snugly, so they are NOT going anywhere and are rock solid. The slit light at the bottom is hooked into dash illumination (including dimming), and the big lens comes on when the item it activates is turned on.
I think he's trying to get actuators with labels on them too at some point, so if he does, I'll be ordering some more so I can more readily identify what each switch is for.
I have wiring diagrams to help with hooking these up if you need em.