Remove one of your t-case skidplate bolts and take it to the hardware store so you can match its size and buy six 1" longer replacement hardened bolts. If they are SAE, they must be Grade 5 or Grade 8. If they are metric, they must rated 8.8 or 10.9. Those numbers are the bolt's hardness, not its size. If you have an early Jeep, its size will be an SAE (inch) size but if you have a newer TJ, it'll be metric.
Then, since you need to drop your t-case 1/2" to 1" max to get rid of the vibrations, buy a 6" stack of washers sized to fit the diameter of the six new 1" longer bolts you bought.
Support the skidplate with a jack and then loosen the bolts on one side by 4-5 turns, then remove all the bolts on the other side. You leave the bolts loosely threaded in on on side to keep the skidplate from moving out of position. Now lower the jack enough so you can stack 5/8" or so worth of washers between the frame and skidplate, inserting the new bolt up through the stack of washers. Do that for all six bolts and you're done.
A 5/8" drop should be enough to get rid of the vibes but if you need to, you can drop it up to 1".
The washers are inserted between the frame and skidplate like this...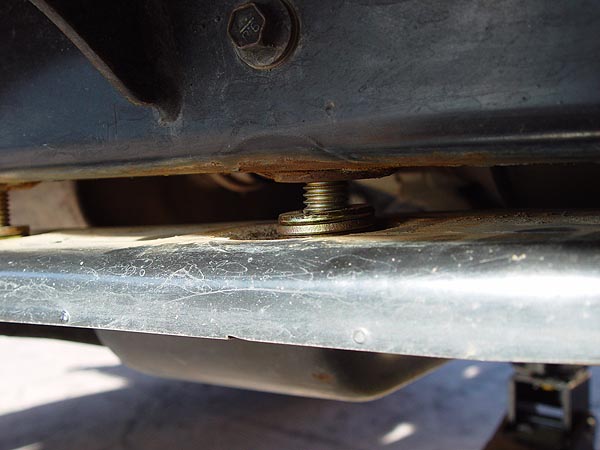 Total cost for all 6 bolts and washers is under $10.