Hey guys,
I'm Nick. I'm 17 years old, and in September of 2013 I bought my first vehicle; a 1993 Jeep Wrangler. I got it from some dude whose girlfriend was pregnant and probably ready to pop, because he said he really needed to get rid of it soon. My dad and I had looked at 3 other Jeeps and this one was the one my dad liked the best. I didn't have my license at the time, so my dad test drove them all and said this felt the best during the drives. But, we met at a gas station, so it was warmed up already. Thank God it was, because the oil pressure gauge was sitting at 10.
Also, it had 215,000 miles on it. So we found that along with a Flintstones size hole in the driver's floor, back door was rusted out, etc etc etc... He was asking $2,300, but with the engine problem he didn't know about, plus him needing it gone, I managed to snag it for $1,500.
Then when we drove it home, we pull off the highway and look at the oil pressure gauge, and oh s**t it's at 0. We pulled over for about 15 minutes and let it cool off, then started it back up, pressure was at 5, and limped her home. Pressure was fine during cold starts, but as the engine warmed up, the oil thinned a little and pressure dropped. It took about 20 minutes to lose all pressure tho.
I drove it for a little while, mainly short little jaunts to school and back (About a 5 minute drive) and got through the school year. On June 11th, 2014, my friends and I hopped in the Jeep and hauled up to my dad's store in Chicago. We got to work and hauled the motor and tranny out in one day.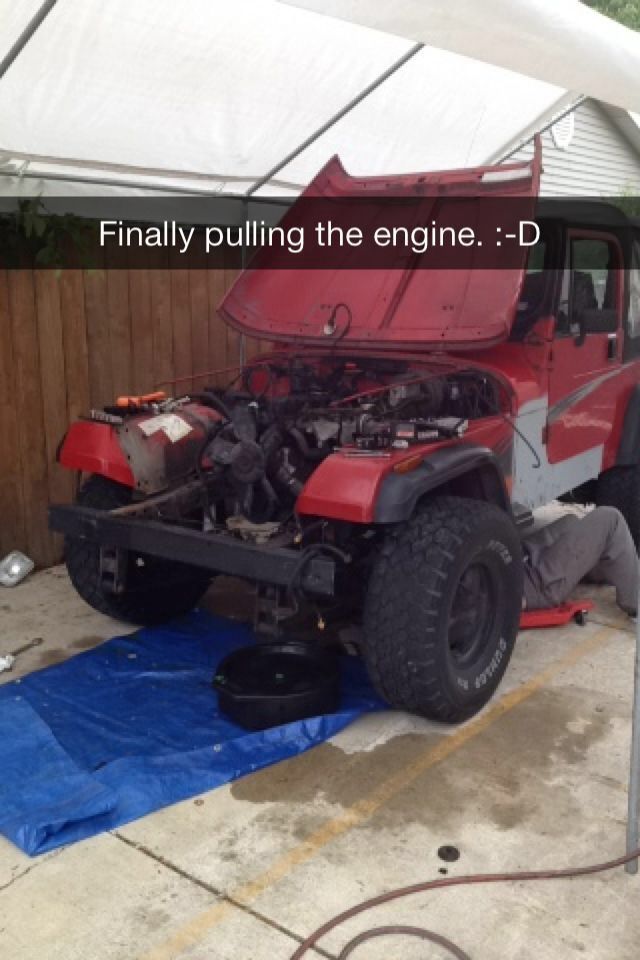 So we got it ripped out, and I tore the motor apart with my cousin the next day. I found that the #1 cam lobe and lifter were getting eaten up and basically had pumped abrasive throughout the engine. Cylinder bores were scored slightly, cam bearings, main bearings, and rod bearings looked like tire tread. Sludge wasn't bad, but the oil came out looking like coffee with creamer.
So I sent my block to Ted at Opel Engineering in Streamwood, IL. This guy knows Mopar stuff well. I'll be picking up the block tomorrow. I ordered a rebuild kit, which includes everything brand new. I had to get .030 over pistons. Stock cam and cam bearings, bought a re-machined crank with .010 over rods and mains. I'll be putting the engine back together in a few weeks.
In the meantime, I've replaced the driver's side floorpan, driver's side tub sheet metal (RockAuto called it the "cowl") and I've also patched all the rusted metal on the rest of the Jeep.
I thought this was a cool shot, I was teaching my cousin to spot-weld and took a picture at the right moment. Look on the fence.
And another welding shot, he was welding a patch around the wheel well. Kind of gives you an idea of how bright a welder really is when you're not behind the mask.
Hoping to have metal patching done by this weekend. Then it's going in for bodywork and paint. That's when I'm putting the engine back together, when it's in paint. It's getting painted bright green, I'm thinking about something between Lime and Avocado green. After that, the inside's getting bedlined, then new tires and rims when I save up some more money. (I have a set of 17" alloys off of a newer JK)
This Jeep isn't going to be crazy, it's mainly about getting together with your gearhead friends and turning wrenches, just having fun.
Future mods I can't afford now:
-XRC style front bumper
-XRC style tube fenders
-Some sort of tire carrier
-Hitch rear bumper (To pull our 18" Donzi V-hull to the lake)
Sorry I didn't take more pictures sooner, I kind of just jumped in and started working on it. I need to have it done by the end of August, so I'll be hauling ass with this project.
-Nick