Figured i would start a build thread on here to keep track of my build and all my pics and get some feedback from others.
I started this build in 2012 but a wedding, new house, job change and life held me up till now
Here is what i started with, a very worn and beat 95 YJ 4.0/5spd/4in lift/35s/8.8 rear and 4.10s 200k and lots of rust.
The day we brought it home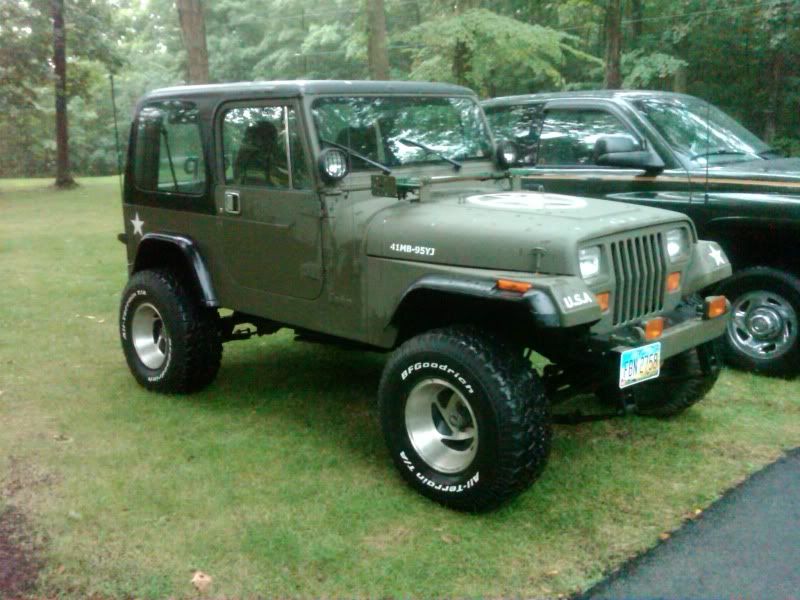 A few mods later
Setup worked great but the frame was toast and so was the body may not look like it but there were only 2 mounts holding the body on to the frame.
Tore the old one down and decided to start over with a new frame, tub and a few other parts
Tear down
New parts
New frame and the shitty YJ tub that came with it.
(more pics to come)
The ultimate goal for this build is the have a low stable wheeler that can still be driven on the street on a Saturday afternoon.
Build specs:
-95 YJ frame
-2000 TJ tub
-Camed and tuned 5.3 LS/ built 700R4/241C
-60's front and rear 5.38s locked
-3link front
-leaf spring rear(SUA or SOA to be decided)
-118" wheel base, 24" belly height, 4D's
-Full hydro
I have the motor and trans in for mock up, motor mounts are done working on the trans mount and getting the front suspension mocked up this weekend. Will post more pics as i upload them