In-Cab Winch Remote Installation[/CENTER][/B]
There are those times you need to operate your winch from inside the Jeep. You can always run the wired remote from the plug on the winch to the cab, but you have cables outside that can get hung up on tree branches or you may be in a position that you cannot otherwise hook up the winch.
Modern Classic Enterprises offers another entry in the remote winch control market, but does so at a good price and with excellent customer support.
When I saw their product on online, I figured, "FINALLY! An easy to set up remote winch that even *I* can do!" I got in touch with them and ordered the remote. It got here within just a few days. NICE!
If you look at their website, you'll see what really helps this easy to install. Trailer wire hookups!! It solves the problem of water in connections and makes it easy to hook up.
Green = In
Yellow = Out
Brown = Ground
White = Switch power
Okay. I can do that!
So I set about taking my winch apart. I have a 9.5ti that has seen a few bumps and bruises and it was F-U-N to get apart. I had two issues: 1) I didn't know how to get to the solenoids and 2) I took the wrong bolts off and had my winch in three pieces and ended up with winch cable pretty much everywhere!!!!
Don't do what I did. If you follow this writeup, it should work for pretty much any 5-pin remote winches, but it is geared towards the 9.5ti.
This writeup should work for most integrated winch setups like the 9.5ti. Only things that will vary will be how to get to the solenoids. Also note, if you have a 3 pin winch remote currently, not all steps in the writeup are required. Those steps are noted.
Initial Impressions:
The remote arrived in my mailbox in great shape. This piece is very nicely packed with instructions, a trailer wire plug, a trailer wire tail, small bolts and screws, and the switch itself. Very clean build. The only thing I think the switch needs is etching to show which button is in and which is out. They ARE color coded and red is in, but having the words there would remove any ambiguity. I can live with that, but MCE is very receptive to customer feedback, so don't be surprised if you order one and see that text there!
Parts Needed:
Not everything comes with the remote. You will need additional wire to run from the tail to the winch itself.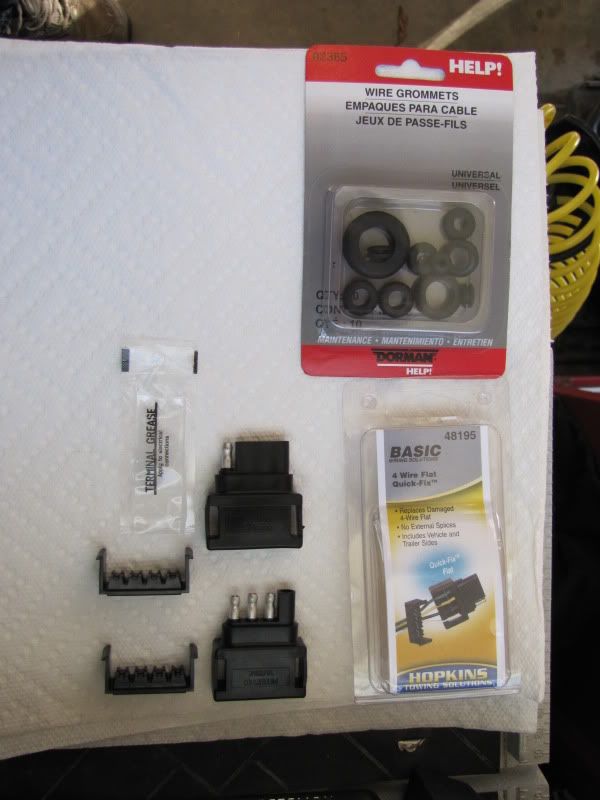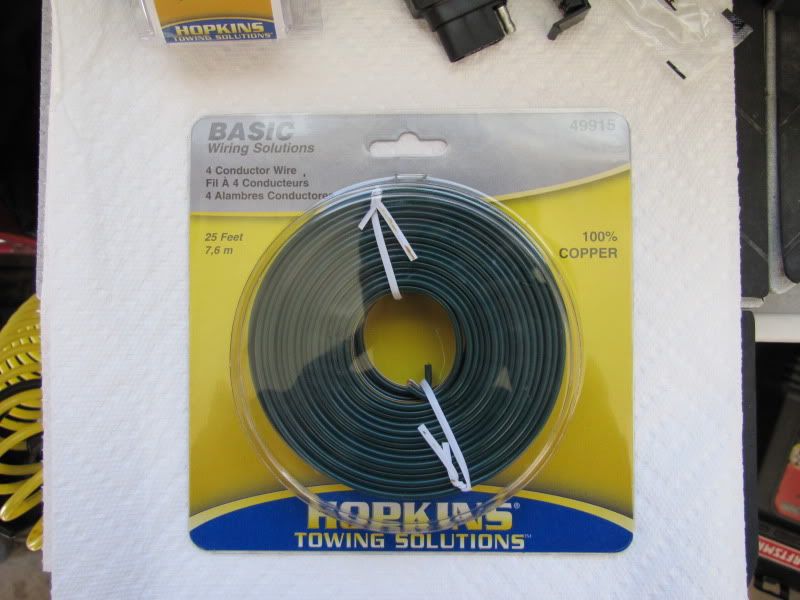 • Grommets (not used) - $2.00
• Pack of (2) Replacement trailer wire harnesses - $6.19 at Adv Auto
• Heat shrink tubing - $1.50 at Harbor Freight
• Ring or u-terminals (4 for winch, 2 for switch). - $2.00
• Inline fuse (5 amp) - $2.00
• Wire connectors (butt splice, male/female, your choice) – had onhand
• Electrical tape – had onhand
• Solder (optional) – had onhand
• Zip ties – We're Jeep owners, we always have zip ties!
• ¼" wire loom (minimum) – 10' should be enough - $3.00 at HF
• Trailer wire replacement wire (25' pack above is MORE than enough, but offers flexibility in how you run the wiring) - $14.99
• Painter's tape
• Wire taps (style = your choice)
Tools Required: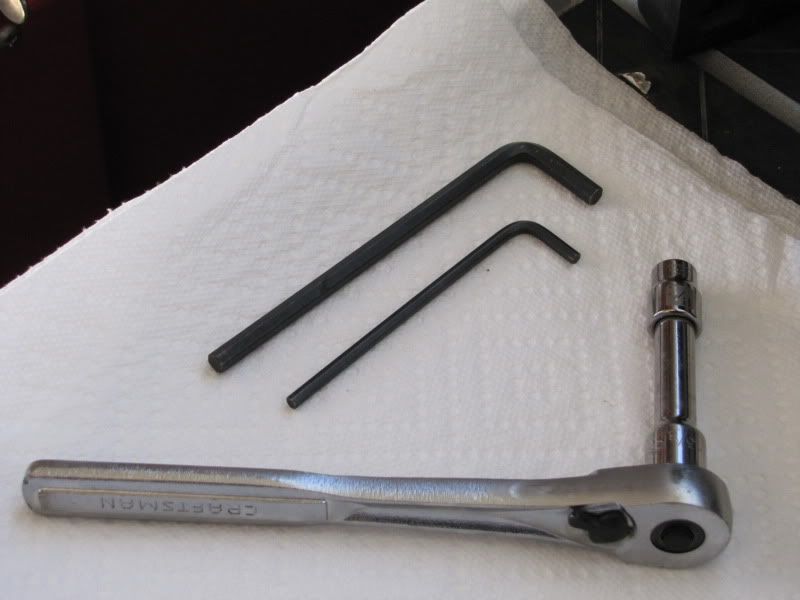 • Safety glasses
• Phillips head screwdriver
• ¼" allen wrench
• 5/32" allen wrench
• Wire cutters, strippers, and crimper (I have an all-in-one tool)
• Soldering iron (optional)
• Exacto knife
• Dremel with cutoff wheel or high-speed small drill bit.
Preparing for Installation:
My first step was to figure out how I was going to run the cable.
Initially, I thought I'd need to drill a hole in my casing, but as it turns out, I can run up the backside of the motor housing along with the heavy gauge red and black wires from the battery.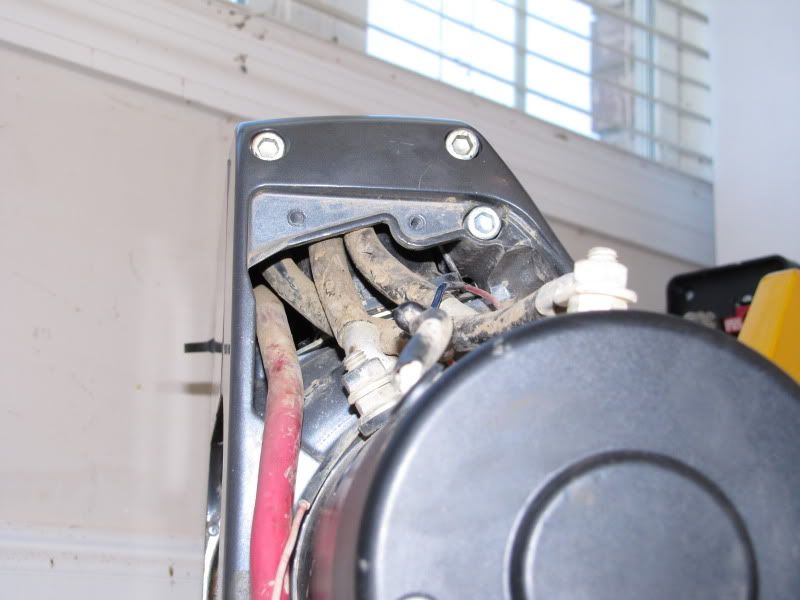 SWEET! Once I did that, I just ran a path that followed the wires for power: Under the radiator grille, up along the radiator (careful not to put it against the radiator), and up to the grill support rods. Once at the top of the grille, I thought about ease of working on the winch. That high spot is perfect for a disconnect. So at the auto parts store, I bought 'replacement' trailer wire plugs that would keep my connection solid.
So now I know where my disconnect point is. Should you decide to do a quick disconnect, put it where it makes sense to you. This worked well for me and is easily accessible for maintenance or winch removal. With my disconnect location noted, I continued the run of the wire. I ran it up to the firewall along the grille support rod. Then I turned and routed along the firewall with other wiring I've done and into a grommet that already had wires running through it. This grommet comes into the cab above and to the left of the driver's left foot. I pulled them through and left all the excess in the cab for the time being.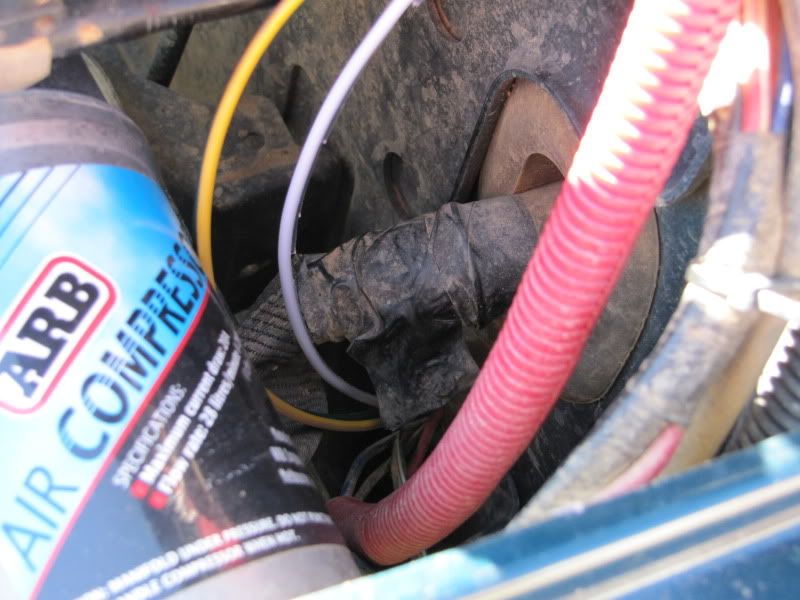 So with the wire laid out, I was ready to start the connections – starting with the winch.
Winch Connection
• Disconnect power to the winch. I didn't think I'd need to worry about shock, but I didn't want to take that chance. I don't want my wife finding me with smoking Einstein hair next to a Jeep with a bunch of wires lying around. Just isn't good.
• Open the winch. There are three bolts for the center solenoid cover (see below). 2 on each side need to be removed; the third (in back) is just loosened. The two on the right front need to come out and require a ¼" allen wrench. Loosen the one in front on the left with the ¼" allen wrench.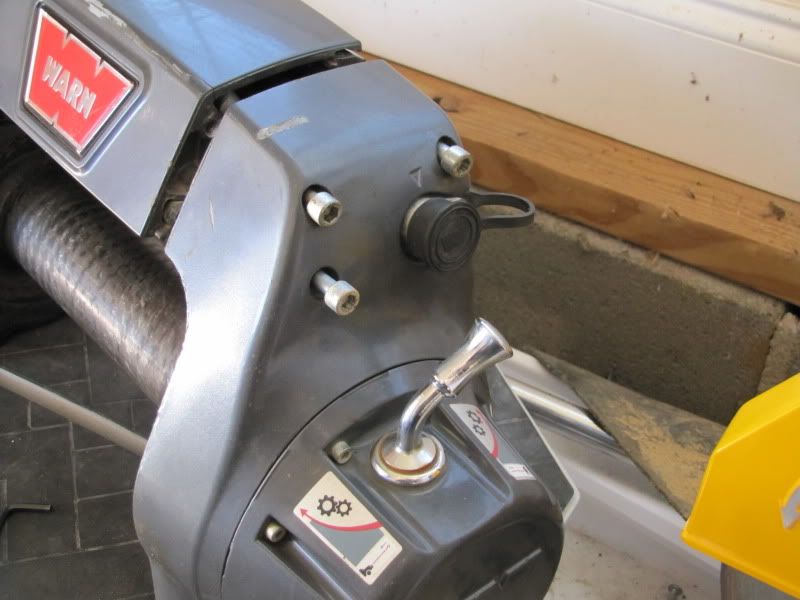 • You will then need a 5/32" allen wrench to remove the motor cover. There are 4 bolts holding it on. In the images below, you can see the 2 5/32" bolts easily accessible. Remove the front one; loosen the back one. You can also see the 4 ¼" bolts.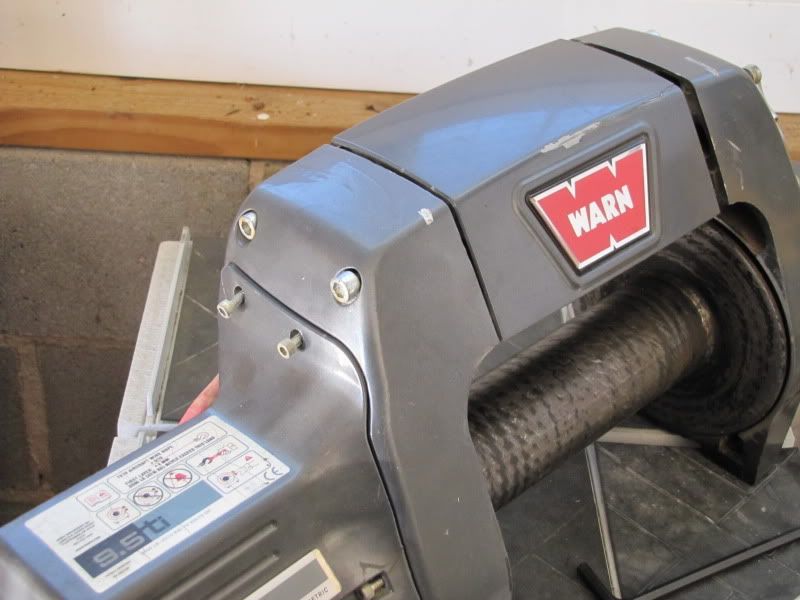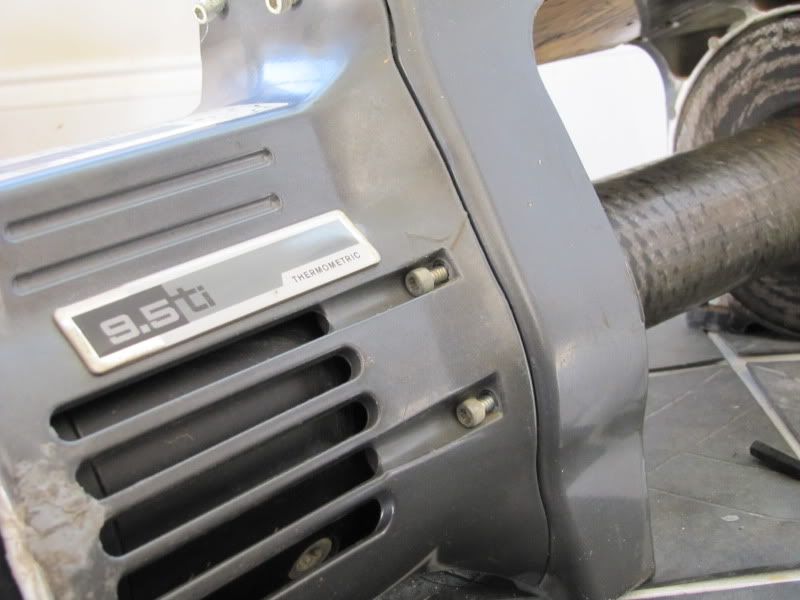 • Once removed, you'll have access to the second front bolt on the left side. With those bolts removed, just loosen the two rear bolts (one on each side). These bolts keep the winch in one piece.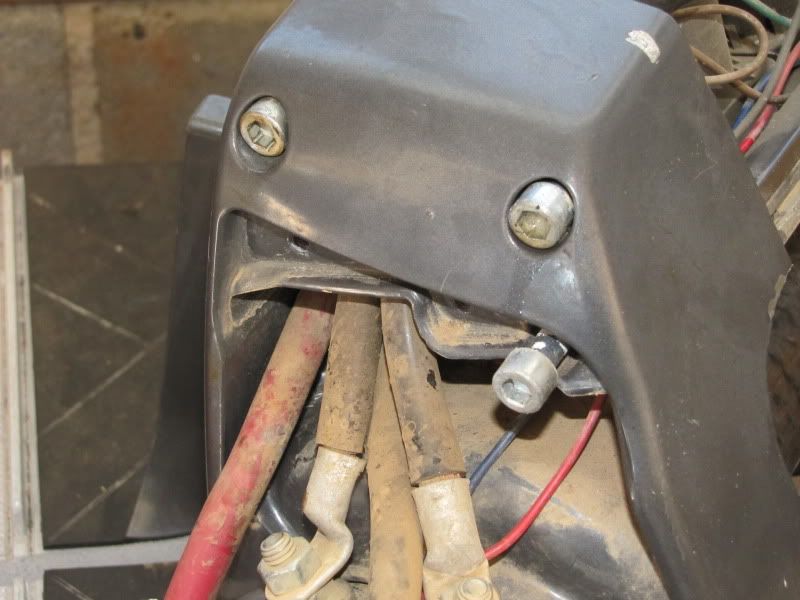 If you pull them all the way out, your winch could come apart if it is not attached to a winch plate. I did this the wrong way and had it off the winch plate (don't ask!) and I had a heck of a mess! Fortunately I got it all back together!
• With the winch apart, you are ready to feed 2 wires - the green and yellow wires up the back of the winch (behind the motor), following the path of the red and black wires. Looking at this pic you can see the path much more readily with the motor cover off.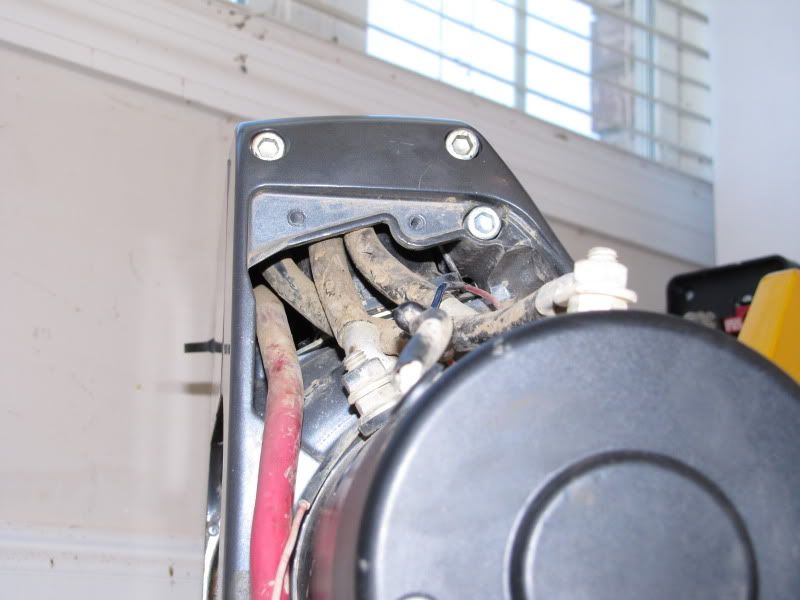 To route the wires, simply pull the green and yellow wires away from the brown and white wires (the green/yellow should still be attached to each other).
It is a tight fit, but they will go as a single wire. Just take your time. Once pulled through, give yourself slack to work (I split apart about 18" worth of wire). You will need to now pull apart the green and yellow wires. Once pulled apart, strip about ¼ to ½" of cover off, exposing the wires.
• Slide the heat shrink tubing on, then attach your ring or U-shaped terminal to the wire. Slide the heat shrink over the end and heat it up with a heat gun to seal it up.