We'll I'd Figure I would share my other car obsession with you guys aside from my jeep..
This car is a 1984 IMSA Fiero.. Its one of very few ever made (you can count on one hand how many) If history serves it right (and there is no doubt about it on this car) this car is the promo car to the 1984 clay young IMSA race car, The 1st american made car to ever win the IMSA series.
How i came into possession of it was the previous owner and i met up at a junk yard one day to grab a few parts from the junk yard.. i needed to buy a few things from him they he forgot to bring with him so i followed him back to his house.. as he opened his garage this little beauty was sitting right in front of me. Needless to say i was drooling over it. So after the history lesson on it i bought my parts and left. Not even a year and a half later he puts it up on the forum for sale.. Good price but it was still to rich for my blood.. He had it up but wasent really advertizing on it that much pretty much let the thread die after he posted it... Well a year after I had just sold my old jeep bought an eclipse and still had some money left from the jeep and another fiero i had sold and had enough to make him a slightly insulting offer (little more than half his asking price) We'll we struck a deal and a week later this beauty became mine..
when the car was built it came with a 3.0 4 cylinder motor known as the SD4.. It was an N/A 4 cylinder motor putting out close to 300WHP which was unheard of from a 4 banger in the 80's even turbo much less N/A. Sadly i dident get this motor with it and I have been working on putting an iron duke in it for the time being just to move/drive it.. I love the thing to death and I've only ever driven it about 5 miles..
Well heres some pics for you guys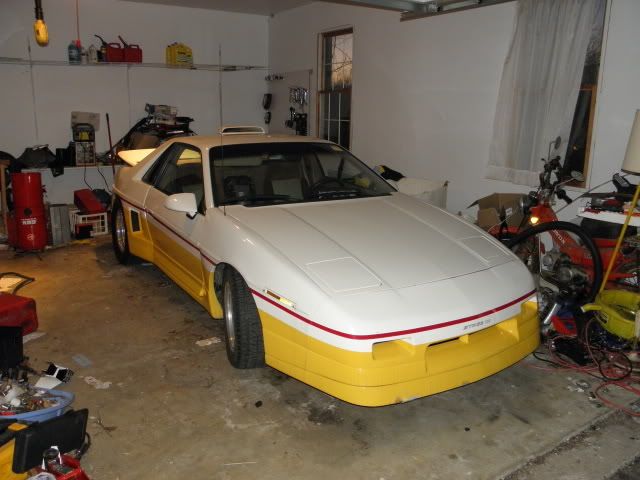 With my solstice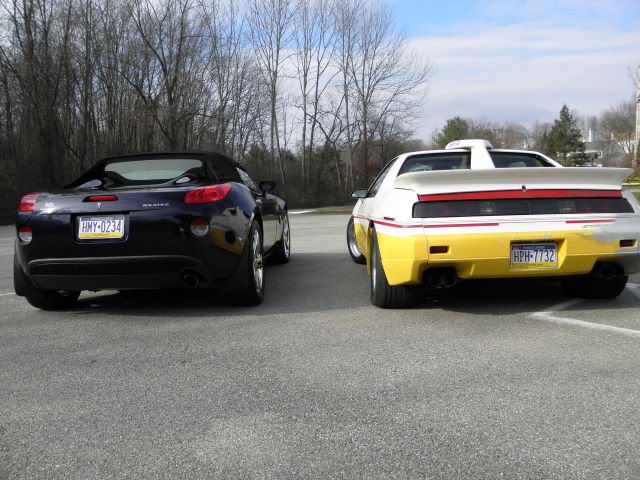 one of my fav pics.. look at thoes wheel chocks against the tires... tiny..