Anybody interested in a
killer
deal on a
new
Borla cat-back exhaust for a 1997-1999 Jeep Wrangler (either engine or transmission)? This is Borla part #14728. The kit includes a stainless steel muffler and mandrel bent tailpipe with the traditional Borla "afterburner" polished tip.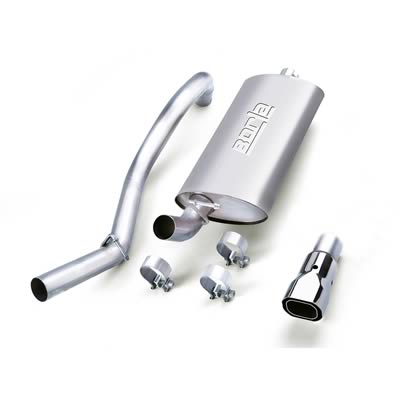 Summit Racing sells this kit for $415 + shipping. My buddy Rick Elies (owner of Rick's Muffler in Orem) just bought a huge batch of various Borla hardware, and this kit was included in his purchase. Since it only fits these three years of TJs, he's a little worried about it gathering dust on his shelf... so he called me to ask if I knew anybody who might be interested. I would have jumped all over it but Rick just installed a Magnaflow exhaust on my TJ last month.
Here's the best part: he will sell this kit
including the installation labor
for only $225 + tax. I hope somebody out there can take advantage of this sweet deal. Just call Rick's Muffler at 801.225.5404 and tell him Dempsey told you to call.