I had some time today so I decided to install my windshield mounted KC Hilite Driving lights onto my 2013 JKUR. Not really a hard install, just a bit time consuming. Took me 5 hours start to finish. I also bought a rugged ridge driver side pillar switch that I installed.
MSD: I used the KC switch but without its little mounting block, see photo at end.
For those interested in doing the install, I took some pics and will provide a brief description of how I did it. Now I am no pro, so feel free to chime in if you have a better idea or tips or useful suggestions. Hope this helps.
1.) Mount the mounts to the windshield. Pretty straight forward. Just unscrew the 2 screws in the corner of the windshield, put mount in place and screw back in.
2.) Install actual fixtures to mount. Leave loose for aiming.
3.) I removed windshield wiper blades. They pretty much just pop off, after removing cover and nut.
4.) I then removed metal section between hood and windshield. To do so, remove screws holding down. Then there are like 4 plastic pressure screw in the middle that just pop out when you pull on them. I used a large screwdriver covered in electrical tape to help coach it along.
MSD: This was possibly the toughest part of whole install! Maybe it was due to 40-degree temps, but these plastic poppers took me a LOT of work to get out. I eventually used the screwdriver suggested, plus grabbed the edge of each plastic screw w/ pliers to pull out. I considered replacing w/ some sort of black self-tapping screw, but in the end just tapped them back in.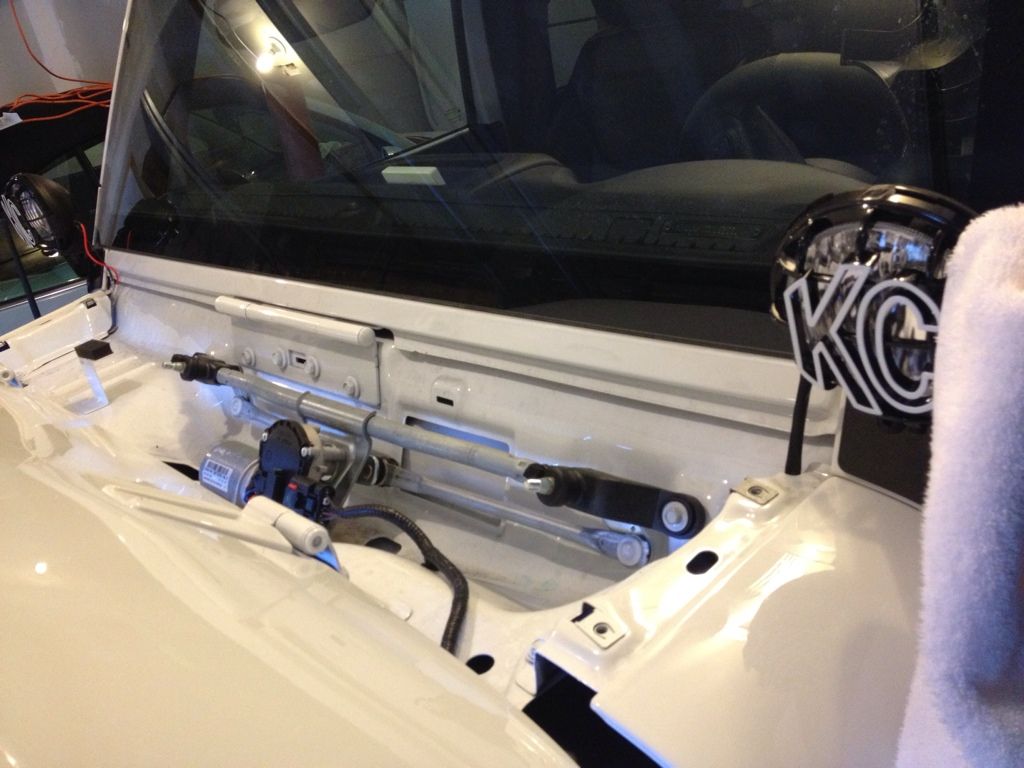 5.) I removed door stop that keep drivers side door from swinging open too far. Once this is done, its a piece of cake to pry out side panel of dash.
MSD: Agree, just start on top or bottom and carefully pop the clips.
6.) At this point, I laid out all my wires. I basically ran the wires to the lights under the piece of hood that is in the top right and left hand corners of the hood. It conceals the wires pretty nicely and they dont seem to pinch at all.
MSD: Agreed. I had to remove the 4 10MM bolts that hold these pieces of the cowl down so I could run the wires properly -- the holes at corner near lights weren't big enough to allow the fat KC connector thru.
I also poked a hole in my firewall starting inside the car under the side section of the dash that i removed earlier. I then snaked through the white and green wires for the switch. These wires run pretty much the same path that the wire to the lights run, utilizing the drivers side hood corner. You can see the pieces I am referring to in the pic under #5.
MSD: I spent some time trying to figure this out, and landed on this easy method, prob same as OP's. I encased the wires from battery to both lights, and also the G/W wires, all in one piece of black wire loom. Looks very OEM. Run this right under the big black loom that snakes along top of firewall at rear of engine compartment, securing w/ wire ties. At the driver's corner, snake the driver's KC light wire out and up to the light under the piece of cowl mentioned earlier. Then I used an electrician's fish wire from INSIDE the car to poke thru the tan insulation "plug" you'll see at top of the plastic side cover you removed earlier. This plug is inside a round hole in the dash frame maybe 3/4" in diameter. Tape the G/W wires to fish tape and pull back thru. I did have to cut off the female crimped-on ends of the G/W wires to make them fit, it was tight getting back through in my case. I just re-attached 2 new female crimp connectors later.
7.) At this point, I mounted my relay. There are a group of relays on the passenger side top corner under the hood. In this spot, there is just enugh room to fit the relay for the KC's. I then used a self tapping screw to mount the ground that goes with the relay. My relay is the one on the left held in place with a stainless self tapper, with the gound wire next to it.
MSD: I mounted my relay a bit forward of the battery in order to make sure my white wire could easily reach the pass's side high beam even when run alongside existing wiring. I bent the relay mounting tab over onto the top of the engine compartment side rail and secured w/ self-tapper. This also meant I could hide a lot of the KC wiring under the plastic shield next to the battery (see photo below from OP).
8.) Now I connected my Rugged Ridge Pillar switch. Note you have to cut out the spots for the switchs. I heated my utility knife blade with my plumbing torch a little. This made it a whole lot easier to cut out the spaces for the switchs. I then popped all 4 switches in as I plan on using them soon. You have to remove the driver side visor and the 2 screws in the top pillar section. I left this hanging in place as I began popping out bottom part of pillar.
Once this is done, the bottom pillar pops out. You need to pull the metal clip off the bottom pillar and reinstall on the Rugged Ridge pillar. I then connected the white and green wires to the RR switch using the directions on connecting the KC switch as RR did not mention how to connect switch. Now, the kit comes with a brown wire for grounding. I hooked it up to the switch and then removed one of the nuts located in the side panel dash area that is connected to metal and connected it to that.
MSD: As mentioned, I used the orig KC switch, but tossed the mounting block. Instead I drilled a 1/2" or so hole in the pillar and secured the KC switch in it with the retaining ring. It ended up being in a good spot, easy to reach w/ left hand and the green LED is noticeable at night to remind you the lights are on. Getting G/W/Brown wires onto back of switch once mounted isn't easy, I should have pulled the wires out thru the hole, slid on the retaining ring and attached wires, and then put the switch in place. Live and learn...
9.) At this point, I took the wire that is supposed to be tapped into my hi beams and tapped it into the battery just to make sure all was working. I then tied in the yellow wire into my battery terminal to supply it with power as well. Thank goodness all was working.
10.) Now I had to tie in the white wire to my hi beam. To do this, i removed front grill. Its held in place with plastic pop in screws. Just pop out and pull it forward. No need to disconnect. Then I removed passenger side headlight. To do so, just unscrew bezel, then twist off light. I then ran tie in hi beam wire along passenger side towards passenger headlight. I then found the hi beam wire. It is White / Gray. I stripped a small section, soldered together the wires then covered in liquid electrical tape I bought off amazon. Before putting grill back together, I checked again that my KC's only work when the hi beams are on. They did, thank goodness. I then closed up front grill and headlight.
MSD: VERY helpful to have this description. I did the same, and removing grill and headlight is the way to go. My only issue is that when all together, only ONE light worked! I started testing and found that KC hadn't put one light's female metal connector securely enough into it's weatherproof housing where the harness connects to the light. Grrr, poor QC. Also here, I worried about all I've read about JKs having wave pulse modulation headlight wiring, meaning the KC relay might get fluctuating voltage. So I bought a 7500u capacitor to install inline in the high beam wire, but haven't tied it in yet because I was curious if I'd hear the relay buzzing (as others have noted). Haven't had the lights on long enough to test properly yet, but I will.
11.) Now time to tidy up all the wires. There is a 1" piece of wire loom that runs the length of the fire wall. I neatened up all the slack and neatly zip tied all to this piece of loom.
12.) I then reinstalled the piece of hood that I removed in step 4 and put windshield wipers back on. A little tough to pop this in, but once again used large screw driver to help get it back in to plastic tabs.
13.) I finished installing RR pillar switch. I bunched the excess switch wire up with a zip tie and strapped it onto a piece of loom in the side dash panel are. I then finished RR Switch and popped back in side panel. The RR Switch is a decent fit. Looks sort of factoryish.
14.) I then aimed and tightened down nuts.
15.) Now this step will actually come tomorrow. I am going to disconnect my KC's at the fixture, pop on a piece of heat sink, reconnect, apply some liquid electrical tape allow it to dry then finish heat sink. Right now, the actual wires are exposed. They are hidden pretty good, but I don't want them getting wet the way they currently are.
Here is a few pics of the final mounted version: