Like many members, I frequent WranglerForum most often from the convenience of my iPhone. I also find it easiest to snap quick pictures and upload them directly from my iPhone. However, once you have uploaded a certain amount of data to this forum, you are cut off from attaching images to your posts (as my husband recently discovered!). You may be wondering what you can do once you have reached your image limit. Here is a simple solution for you:
Step 1:
If you do not already have a Photobucket account, set up a
free
account at
www.photobucket.com
using either a computer or the internet app on your iPhone. This is the Sign Up page as seen from the Safari browser on my iPhone:
Step 2:
Go to the App Store and search for "Photobucket". Download the
free
app. It will look like this:
Step 3:
Once installed, open the Photobucket app. At the bottom right of the screen, you will see an icon with "Settings" written underneath. Select this option. Then select "Log In" in the upper right-hand corner and enter your account name and password.
Step 4:
Once logged in to your account, select the "Upload Media" option on the bottom of the app, second from the right.
You can either upload an existing image or take a new one with your camera. To upload an existing image, select the "Choose Existing" option near the upper left. Select your photo and it will automatically begin uploading it to your Photobucket account (this typically takes just a couple of seconds to complete).
Step 5:
Once the uploading image disappears from the uploading/Processing screen, you can locate the image by selecting "My Albums" from the menu on the bottom of the screen. Select your photo, which brings you to a screen that looks like this: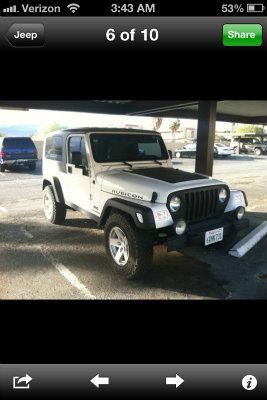 Step 6:
Select the information icon on the bottom right (the little circle with the " i " in it) and a list of options will appear:
The code you want to copy for forum use is in a box next to "IMG". Simply tap the code box with your finger and the code will automatically be copied. You will receive verification.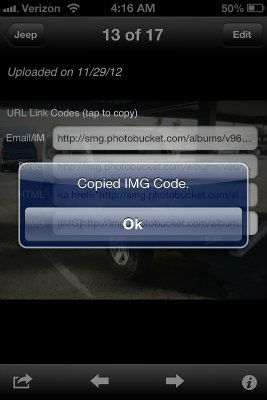 Step 7:
Now you are ready to post your image! Go to post a New Reply or New Topic as you normally would. In the typing box that appears, hold your finger against the screen for a couple of seconds. An option to "Paste" will then appear.
Tap "Paste", then you will see the code appear, which you copied moments ago.
Step 8:
Send your post!
It may seem like a lot of steps at first glance, but once you have familiarized yourself with the process, it takes less than half a minute to go through the process of uploading a photo and posting it here. I hope this helps some of you! I assume this process would work on the iPad as well, so long as the Photobucket app is available for the iPad. If anyone can verify this, please let us all know.
I would edit the photos to make them smaller, but I'm too sleepy. Sorry for that. If you have questions or suggestions as to what might be added to this tutorial, please do not hesitate to post them here. Thank you!