I bought my second wrangler back in June... Granite Crystal JKU Big Bear. My first was a '95 YJ that's been long gone since beating the hell out of it as a young kid. I had been wanting to get back into a Jeep for a long time so back at the end of '14 I bought a '15 Cherokee Trail Hawk. Not sure why I didn't just go right for the Wrangler back then. Might have had something to do with my girlfriend having just bought a '14 JK and not wanting have the same vehicle. Obviously that changed, because we both bought new '17 JKUs within a few days of each other.
Anyways, I've been lurking around here since I bought the Jeep back in June trying to figure out what I wanted to do and how far I wanted to go with my build. I settled on a TF 2.5 coil lift with shock extensions with TF sport lower control arms, Bushwacker flatties, and Rugged Ridge 1.75" spacers to start. I like the look of the stock Big Bear wheels so I was planning on throwing a larger tire on them... hence the spacers.
After more and more research about putting the size tire I wanted(315/70 17) on the stock rims, I decided it would be better to just go ahead and get some different wheels. The spacers aren't a total loss cause I'll just throw them on my better half's Jeep. Her jeep came with the Mopar/Teraflex HD hinged tire carrier that I swapped out and put on mine. I'll call that an even trade.
I ordered a wheel and tire package from Extremeterrain.com. Pro Comp 7005 wheels and Mickey Thompson Baja ATZ P3 in 315/70 17.
Here are some pics and she's growing up
The day I bought her
Before Spacers
After Spacers
With Bushwacker Flatties and Spacers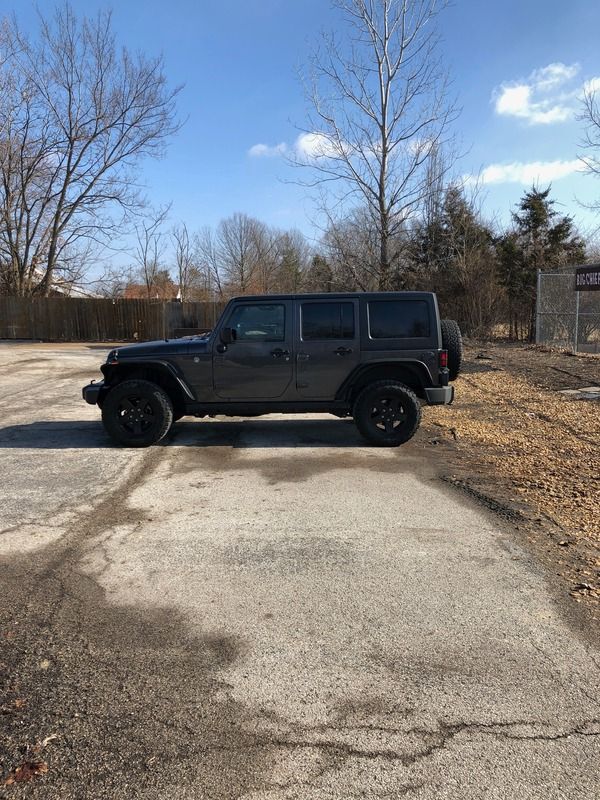 With Bushwacker Flatties, Spacers, and Lift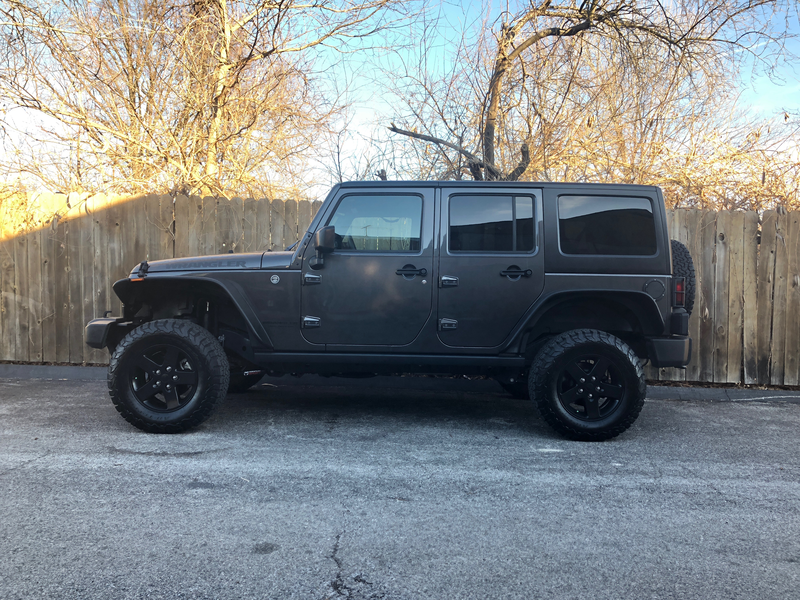 I ordered the wheel and tire package from Extremeterrain back on 1/18 and I'm still waiting on them to come through with the order... which has been quite the ordeal. Fortunately, I don't think my Jeep looks entirely goofy with the smaller tires. The K02s help with that.
Once I get the wheels and tires, I plan on adding the TF adjustable front track bar and Falcon 2.1 shocks.
With all that said, thanks from a former lurker for helping me to choose what direction I wanted to go with my build! This seems to be a great community of Jeepers!