1995 YJ & 2012 Rubicon 2 door
We live in SE Wisconsin between Chicago and Milwaukee. In July 2020 we were supposed to travel to my hometown in Wyoming to pick up a '53 Jeep I have there. Covid changed our travel plans so I began looking locally for a Wrangler that we could build for my son to drive when he turns 16, in July of 2021.
Just 4 miles down the road found a guy selling his Dad's '95 with 61K miles on it. Had the 2.5L and a 5-speed. All my kids drive manual transmissions for first cars.
Jeep had sat outside for most of it's life. Driver floor pan is gone. Flintstone without the floor mat. Front fenders had rust at the outer edges. Other rust includes right rear fender and under the gas fill. It also needed a windshield, muffler, and the PO thought it needed a clutch. He was asking $3500.
After putting the jeep on a lift and verifying that the frame was solid, we negotiated a sale for $1600. Found some half doors, replaced the windshield, muffler and Clutch master / slave cylinders and started driving it around town.
This is our first Wrangler and we fell in love. So much so that my wife said that she had no desire to share this one with him when he turned 16, so she would "need" one before Spring. She works in the school district, so as a "Back to School" present I bought her a 2012 JKR as a surprise. We are now a Jeep family.
As a father and sons project, we began tearing the YJ down in January 2021 for the build. The goal of our build is to get all the metal back to snuff, blast and powder coat the frame and axles and outsourcing the body work with a color change, plus a small lift to run 31s.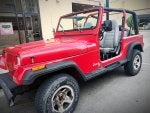 Before we tore the YJ down, we joined a local off-road club for a trail ride and "Trunk or Treat" on Halloween. My wife, Heather, has never driven off-road and we hadn't had either of the vehicles out yet, so it was a little sketchy at times. Heather did a great job and the Rubicon proved to be a great vehicle for her first time out. She even crossed a level 6 rock obstacle! She used the "faster must be better" mentality... 🤦‍♂️ This was my fault. I should have provided more instruction before we went.
I drove the YJ and had a blast. It got stuck a couple of times but the group was great to help us out.