Discussion Starter
•
#1
•
This is the replacement jeep for the 2004 TJ we had for just about 2 years. This one is my wife's fault as she made an offer to our boys as they entered high school. She promised a vehicle of their choice (under $35K) if they were awarded a full scholarship for their college education. My oldest, being the very driven young man that he is, took it as a challenge. Fast forward to his senior year and he was awarded a full scholarship and early admittance into med school. So, we were off Jeep shopping.
Bought not built is not always a bad thing. Back in January, He/we found a Jeep online at N.Ga jeep dealership lot that he said he could not live with out. Looked like it had some upgrades and a fancy wrap but I thought it was overpriced. It had some rust on the fender flares, the heater wasn't working and the drop pitman arm was causing all kinds of steering issues. It was a 2014 JK Rubicon with 17K on the odometer. After making a trek to the dealership, we were able to work out a decent deal and headed home with it. It was built with mostly Poison Spyder parts, had both drive-shafts upgraded, re-geared, lifted on 37" KO2s, Warn Zeon 10s all kings of Rigid lights controlled by a SPOD, roof rack, Rancho short arm lift and the graphics we still thought was a custom wrap. During that ride I was looking for any details on it and found out that it was built for BF Goodrich in 2014 by Poison Spyder Customs for the KO2 launch. I found tons of build pics online and also found out they made a 4 door version as well as a Brute version. It's not wrapped, they painted it. Good thing he lovers it.
Fast forward a little bit. We have replaced the drop pitman and added a Steer Smarts top mounts drag link, removed and sold the roof rack, tinted the windows, re-geared it from 5.13 back to 4.56, added seat covers (found online on the drive home and picked them up on the way) pealed some of the BFG decals off, added a Rubicon decal and threw a Bartact winch cover over the Zeon 10S.
New, as used by BFG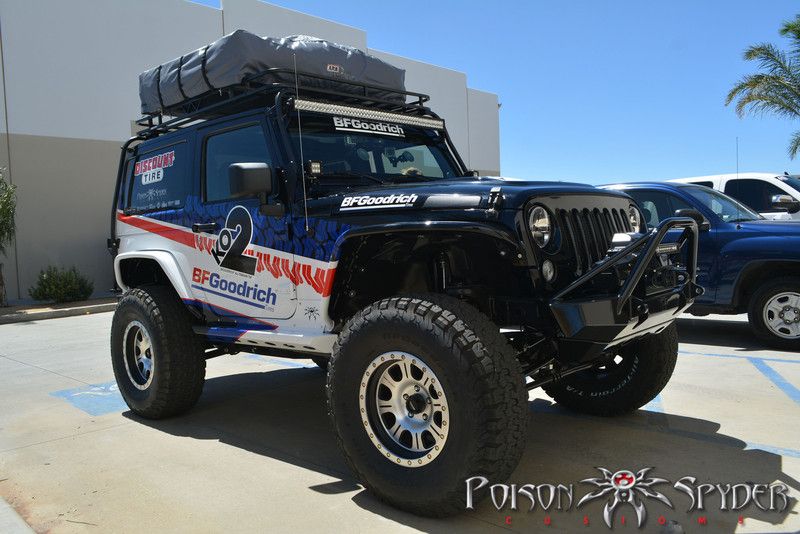 Now