Discussion Starter
·
#1
·
Super excited to be able to do this build finally! I had a maroon 2012 Jeep Wrangler Rubicon with AEV everything sitting on 35 Nitto Trail Grapplers with an Edelbrock Supercharger under the hood... but the supercharger frustrated me to no end so it then pushed me to sell the whole Jeep and start fresh! Now I'm sitting with a white 2016 Wrangler Rubicon Hardrock. Yes I know that if i'm going to get rid of the Hardrock Package accessories why get it... It was a great damn deal! Better than if I got a regular rubicon from another dealership.
My plans for the Yeti are to make it bigger and better than the last! :drinks:
The plan so far is to theme it all with... you guessed it, Genright! I also plan to roll on 37's and regear to 4.88's with a new an improved Danatrac front axle! But there is one thing I plan on not doing and that's to put an Edelbrock supercharger
uke: (sadly).
More details to come soon!! Super excited and here are some pics of the old vs the new! Sorry that one is sideways, don't know how to turn it haha.
2012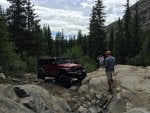 2016
(So Far)