Discussion Starter
•
#1
•
Hey all- posted in the intro thread if you want details on me/my Jeeps so I'll jump right in.
Picked up a solid '13 JK (auto) and took it out for some light off-roading in North GA.
-The soft-top was abused prior to me, spotted, sun bleached cloth, broken sunrider pivot knuckle, and the back window zipper metal lead has practically pulled away from the fabric, so getting the back window in will be a challenge - any ideas on a fix?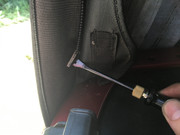 Runs like a beast, no issues - however I there is a slight fuel smell when backing up anytime I start up, most noticeable on the trails yesterday. Also the feint sweet smell of coolant after aggressive off-roading. No overheating tho, and regarding the fuel I did get a GASCAP warning twice in two weeks, which after tightening that cap, resolved itself.
*I did take it to a local dealer- they ran it through all of the standard tests, clean bill of health* -so any reason for concern?
Lastly, this go around I'm doing different mods for my JK, starting with practical off-road choices- this is a bone stock JK auto-
I have 6k to spend over the next 6mos.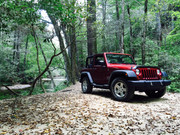 I like being compact and little for tight spaces (forest service roads have provided a few oh sh*t moments) so self recovery is key, also ground clearance/protection without losing daily drivability is important to me- honestly, she doesn't have to be pretty- just utilitarian.
What items would the forum recommend first within that budget, over time?
Side Note: Here's my first JK:
-thx 2 Southern Off-Road in Alpharetta, GA.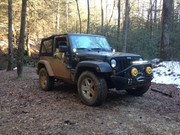 XRC Bumper
WARN Wench/Synthetic Line
LEDs - Bar/Pillars
Old School KC DayLighters
Ended up with 33" on Stock Rims (no spacers/definite rubbing)