Discussion Starter
·
#1
·
Video Of Ticking (Engine was already warm when this was shot - sound is basically the same when things are cold, there's just more ambient noise)
YouTube - ticking.AVI
So I've spent the past couple of months trying to diagnose an engine tick, and I've come to the end of my diagnosing ability. It started out about 3500 miles ago, and was only noticeable when the engine was cold. After it warmed up, it wasn't noticable. I changed the oil, tried seafoam in the case, the intake, and gas tank - with no noticeable differences. I've tried heavier and lightweight Dino & synthetic oils with no change. The tick has simply gotten louder, and it now stays while the engine is warm.
Shown it to two different mechanics, and the dealership. All were stumped, though the dealership wanted me to spend obscene amounts of money for them to check/replace the flex plate (noise seems loudest under the jeep near the bell housing - but is present all throughout the engine with a stethoscope)
So here's a quick list of the things I've tried to check to figure out what's going on.
* Torque Converter Bolts - All nice and tight - nothing hitting in the bell housing or cover.
* Crankshaft Position Sensor - All good, and not hitting the teeth on the flex plate.
* Evap Purge Solenoid - Not the problem, and I checked all the other vaccum lines as well. Also, tick speed increases with higher RPMs.
* Camshaft Position Sensor - Pulled this as it seems to be a common 4.0 ticking problem. The teeth on the gear looks fine, and so does the cam. There is wear, but it's not deep or wide like the damaged ones I've seen. Pretty much cosmetic.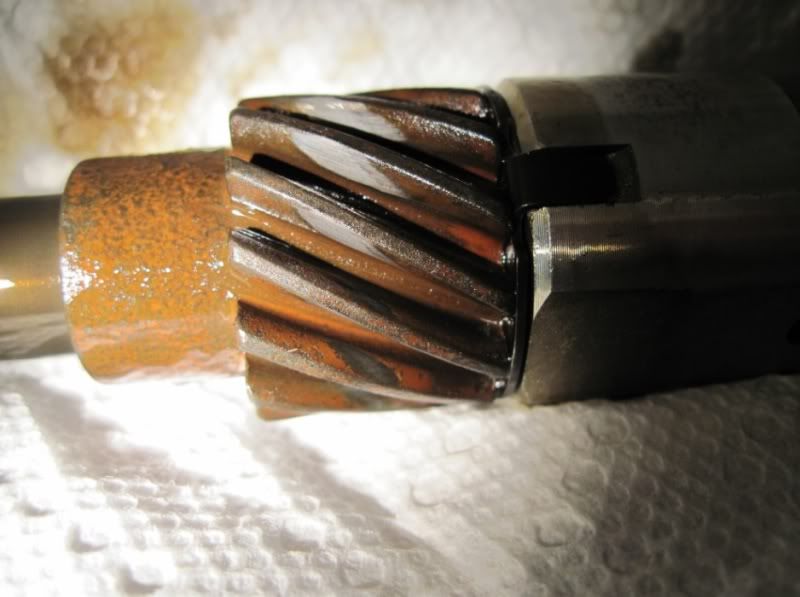 * Exhaust - Checked all the bolts on the manifold, searched all over for leaks. Did the WD-40 down the throat in the dark with a pencil light and not a thing.
* Flex Plate - Pulled the transmission all the way out and unbolted the flex plate. It was pristine, cleaned it all up searching for cracks and nada. Even took a super strong magnet and attached it to one side, and sprinkled iron shavings on it to see if I could find any invisible cracks. Nothing. I even ran the engine without the torque convertor (so the transmission was completely isolated and there was no change in the noise)
No Check Engine light or codes of any kind - So I am completely lost. I would really like to figure this out, as my engine exploding would be kinda inconvenient. Anyone have any ideas on what else I should check? Any questions for me, or clarifications needed?